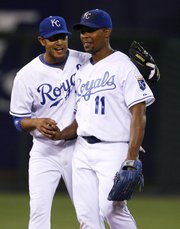 Kansas City, Mo. — It took a guy who'd been in the minors all year beating a reigning Cy Young winner for the Kansas City Royals finally to shake loose of their long, demoralizing losing streak.
Rookie manager Trey Hillman, disappointed so many times while enduring a 12-game skid, hardly knew what to do when Jhonny Peralta made the final out Saturday night in a 4-2 victory over Cleveland.
"I made sure that was actually an out," said Hillman. "I waited for probably five seconds before I took a deep breath, a sigh of relief. But it was a big relief."
David DeJesus homered, and Kyle Davies pitched five strong innings just hours after being called up from Triple-A Omaha to become the first winning pitcher for the Royals since Zack Greinke on May 18.
The Royals started the game with the fewest runs, sacrifice flies, RBIs and walks in the major leagues, but beat reigning Cy Young winner C.C. Sabathia to end what Hillman had been calling "this miserable streak."
"We won," said DeJesus, who drove in two runs a night after making a base-running blunder and taking responsibility for loss No. 12. "It's over now, so it's all good."
DeJesus hit a solo home run in the third inning and an RBI double in a three-run sixth off Sabathia (3-7), who went eight innings.
Davies (1-0), who was 0-3 in three previous starts against Cleveland, gave up five hits and one run in five innings, walking three and striking out two.
"It's a very nice feeling," Hillman said. "Kyle Davies did a good job of mixing and matching and David sparked it with a two-strike home run."
The Royals' losing streak, begun with a no-hitter by Boston's Jon Lester, was the longest in the majors since Kansas City and Pittsburgh had 13-game slides in 2006. While going almost two weeks without a win, K.C. had allowed three grand slams, coughed up a five-run lead in the ninth inning of one game and scored three or fewer runs in nine others.
"We did everything good today," DeJesus said. "We were able to take advantage of a tough pitcher. I feel I messed up the game yesterday. It definitely helps that I was able to come up with some key hits, for sure."
You thought that was bad?
The Royals' latest skid matches the third-worst in the team's history:
19 games - July 28-Aug. 19, 200513 games - May 12-25, 200612 games - May 19-30, 200812 games - June 28-July 13, 199711 games - April 9-21, 200611 games - June 27-July 8, 1986
Copyright 2018 The Associated Press. All rights reserved. This material may not be published, broadcast, rewritten or redistributed. We strive to uphold our values for every story published.