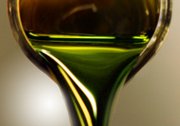 A San Diego company says it can turn algae into oil, producing a green-colored crude that yields ultra-clean versions of gasoline and diesel without the downsides of current biofuels production.
The year-old company, called Sapphire Energy, uses algae, sunlight, carbon dioxide and nonpotable water to make "green crude" that it contends is chemically equivalent to the light, sweet crude oil that fetches more than $130 a barrel.
Chief Executive Jason Pyle said the company's green crude could be processed in existing oil refineries, and the resulting fuels could power existing cars and trucks just as today's more polluting versions of gasoline and diesel do.
"What we're talking about is something that is radically different," Pyle said. "We really look at this as a paradigm change."
Sapphire's announcement is the latest development from companies and researchers focused on finding ways to cut harmful emissions from cars, trucks, trains and planes.
Sapphire's process would help curb U.S. reliance on imported crude and alleviate concerns about the world's dwindling supply of oil, Pyle said. And by using carbon dioxide spewed out by such things as coal plants, the production process would help remove harmful emissions from the atmosphere.
The green crude also would produce fewer pollutants in the refining process and fewer harmful emissions from vehicle tailpipes, Pyle said.
The company would not give details about the production process or where its pilot project would be located. Sapphire expects to introduce its first fuels in three years and reach full commercial scale in five years.
Pyle would not cite the pricetag for a barrel of green crude, but he described the expected cost as competitive with producing oil from deep-water drilling and oil sands. The company already has produced green versions of jet fuel, diesel, and clear, premium-grade gasoline, he said.
Today's biofuels - in the United States, that's biodiesel and corn-based ethanol - have helped displace petroleum but also have troublesome characteristics that reduce their appeal. Corn-derived ethanol and soybean-based biodiesel eat into croplands used to grow food, and their production and distribution consume large amounts of energy.
Many companies are making strides in producing ethanol from nonfood sources such as switchgrass, plant waste or recycled paper.
Virent Energy Systems Inc., based in Madison, Wisc., in March unveiled a joint venture with Shell Oil Co. that would produce "biogasoline" from plant sugars - creating fuel that could be distributed through existing pipes and stations and used in existing vehicles.
And there are plenty of companies working toward producing oil from algae. The idea isn't new, but interest and research have grown so significantly that Web sites such as www.oilgae.com are devoted to the topic.
"One thing that is encouraging is the level of attention and the investment that's happening to really try to find better ways to fuel our transportation system," said Don Anair, vehicles analyst for the Union of Concerned Scientists.
Copyright 2018 The Lawrence Journal-World. All rights reserved. This material may not be published, broadcast, rewritten or redistributed. We strive to uphold our values for every story published.