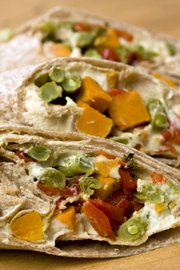 When you're counting calories, what you put inside the tortilla is just as important as the wrap itself.
These delicious and satisfying roasted vegetable wraps are inspired by flavors from the Middle East. Plus, with sweet potatoes as the main ingredient, they are loaded with nutrients and healthy dietary fiber.
The wraps are made using 8-inch tortillas, which are the perfect size for the amount of filling created with this recipe. If you like, use whole-wheat or multigrain flour tortillas for added flavor and nutritional benefits.
For a summery, light supper, serve the roasted vegetable wraps with a diced cucumber and tomato salad dressed with olive oil, red wine vinegar and some chopped fresh herbs such as parsley and oregano.
Roasted vegetable wraps
1 pound sweet potatoes, peeled and cut into 1/2-inch dice (about 2 medium)
3 teaspoons extra-virgin olive oil
8 ounces green beans, cut into 1-inch lengths
1 large red bell pepper, seeded and cut into strips
3/4 teaspoon salt
1/2 teaspoon freshly ground black pepper
1 1/2 teaspoons cumin
1 teaspoon ground coriander
1 teaspoon dried thyme
2 tablespoons lemon juice
3/4 cup prepared hummus
Four 8-inch flour tortillas
Preheat oven to 425 degrees.
In a medium bowl, toss the sweet potatoes and green beans with 2 teaspoons of the oil. Spread the potatoes and beans over two-thirds of a large baking sheet.
In the same bowl toss the peppers with the remaining teaspoon of oil, then spread them over the remaining third of the baking sheet. Season all the vegetables with salt and pepper.
Cover the potatoes and beans with a piece of aluminum foil, leaving the peppers uncovered. Roast for 15 minutes.
In a small bowl, stir together the cumin, coriander and thyme. Uncover the potatoes and beans and sprinkle the spice blend and lemon juice over all the vegetables. Toss the vegetables to coat. Return to the oven and roast, uncovered, for 25 to 35 minutes longer, or until the vegetables are tender and browned.
Spread about 3 tablespoons of hummus over each tortilla, leaving a 2-inch uncovered border all around. Divide the filling among the tortillas; fold in two sides and roll up as you would a burrito, placing the seam side down so the wraps stay closed. Serve immediately. Serves 4.
Nutrition: 280 calories; 84 calories from fat; 9 grams fat (1 grams saturated; 0 grams trans fats); 0 milligrams cholesterol; 44 grams carbohydrate; 8 grams protein; 10 grams fiber; 758 milligrams sodium.
Copyright 2018 The Associated Press. All rights reserved. This material may not be published, broadcast, rewritten or redistributed. We strive to uphold our values for every story published.