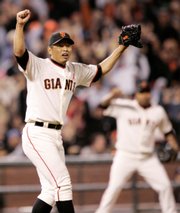 San Francisco — Somehow, those involved lost track of their triple-play ball. John Bowker entrusted the souvenir ball to bullpen catcher Taira Uematsu, also the translator for Keiichi Yabu.
But, as it turns out, Uematsu had no idea that ball was the special one, and he played catch with it - thus the ball got mixed up with all the others.
"I tried," Bowker said with a grin. This one will have to stay in their memories and on the highlight reels.
The San Francisco Giants turned a triple play in the eighth inning of their 7-3, 13-inning loss to the San Diego Padres on Friday night, the second in the majors this year.
Yabu had just entered with runners on first and second and got Kevin Kouzmanoff to hit the first pitch and ground into the Giants' first triple play since June 14, 1999, on his first pitch.
"I was thinking groundball and double play, then we turned the triple play," Yabu said. "Unbelievable. I had never seen one. We usually see triple plays where they catch a line drive. It's the first time I saw a groundball triple play."
Third baseman Jose Castillo fielded the hard grounder near the bag and retired Giles on the forceout, then relayed to second baseman Ray Durham to get Gonzalez. Durham then fired the ball to first baseman Bowker for the third out.
"When he hit it, I was thinking he would touch third and throw to second," Bowker said. "As he threw to second, I said, 'Wait a minute, I think there's time to throw to first.' We got him by a half step."
The crowd of 37,178 jumped to its feet for a long ovation. The Padres hit into their first triple play since May 5, 2005, versus St. Louis.
"I hit it hard right at him," said Kouzmanoff, who wasn't surprised to see the play turned. "It's definitely something I don't want to be a part of, but that's the way it goes."
The Giants hadn't turned a triple play at home since Oct. 3, 1980, against San Diego at Candlestick Park. This was the first one for San Francisco at its 9-year-old waterfront ballpark and the sixth total in the city by either team - four at Candlestick and one at Seals Stadium. The Giants have turned seven triple plays since moving West in 1958.
Cleveland's Asdrubal Cabrera turned an unassisted triple play for Cleveland on May 12.
Yabu struck out one in three perfect innings and became the second Japanese pitcher to take part in a triple play along with Hideo Nomo in 1996 - to which Yabu said, "Oh really? No. 2? That's good."
"When it was hit, I thought no but then I saw the quickness to the bag and then I saw the first relay and I thought, 'Yeah, it could happen,"' Padres manager Bud Black said. "When the ball was in flight to second I thought it could happen. Didn't want it to. It was bang-bang."
Giants starter Matt Cain was back in the training room when the play happened, but he celebrated with the medical staff while watching it unfold on TV.
"Me and all the doctors were yelling," Cain said. "It's unbelievable. You don't see that very often. You usually see it with a line drive. To see it right around the horn is pretty cool."
On Omar Vizquel's celebratory night, the 11-time Gold Glove shortstop got to watch in awe as his teammates made the spectacular play.
Vizquel was honored before the game for becoming the major league leader for games at shortstop, passing Venezuelan countryman Luis Aparicio with his 2,584th game Sunday at Florida. He now has 2,587.
He enjoyed seeing his teammates shine on defense.
"I've been involved in a triple play with me hitting, not on defense," Vizquel said. "That was awesome. I was pulling for that. When he got the groundball, I was saying, 'We have a chance for three."'
Copyright 2018 The Associated Press. All rights reserved. This material may not be published, broadcast, rewritten or redistributed. We strive to uphold our values for every story published.