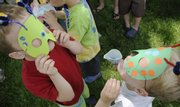 Bugs and children took over the Lawrence Public Library for a couple of hours Saturday afternoon.
Hissing cockroaches, giant African millipedes and scorpions from the Kansas City Zoo were just a few of the bugs on display for children to see and in some cases touch.
The display was in keeping with the theme for this year's library summer reading program for children called "Catch the Reading Bug." The program for teens is called "Metamorphosis."
"The main thing is to encourage them to keep reading," said Kim Patton, the library's young adult specialist. "School is out. You don't want them to let their reading skills slide."
Dozens of children and their parents showed up at the library, 707 Vt., to learn about the program and enjoy music outside on the lawn provided by a children's group, Dino and the Velloci-Rappers.
Among them were Kevin Ruland, Lawrence, and his 5-year-old son, Simon. They sat in the auditorium room floor and looked over a picture book featuring insects. Simon said he recently started his own collection of pill bugs, adding that "maybe" he might read some books this summer and maybe get his father reading, too.
"I'm going to read whatever he tells me to," Kevin Ruland said with a chuckle.
Youths who participate in this year's program will be able to get a variety of prizes and coupons when it ends Aug. 30. They are encouraged to read as many books as they can. To participate they must keep a log of what they read. They can obtain the log sheets at the library or they can be downloaded at the library Web site, www.lawrence.lib.ks.us/, under the children's room link.
And there is an adult reading program as well. Adults participating should read at least four books by the end of July, said Maria Butler, the library's community relations coordinator.
"They set an example for the kids," Butler said.
Phyllis Wilson, who brought two of her children to the library for the festivities Saturday, is in the adult reading program. She credits an interest in reading to getting one of her daughters into college.
"Reading is good," Wilson, of Lawrence, said. "It's the key to all of us staying connected."
Copyright 2018 The Lawrence Journal-World. All rights reserved. This material may not be published, broadcast, rewritten or redistributed. We strive to uphold our values for every story published.