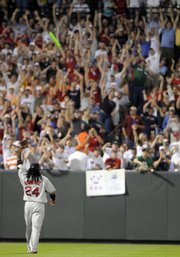 Red Sox 6, Orioles 3
Baltimore - Dreadlocks are in fashion in the exclusive 500-home run club, now that Manny Ramirez has added his name to the list.
Ramirez became the 24th player to reach the milestone, connecting in the seventh inning off Chad Bradford to help the Red Sox beat the Orioles.
Mariners 5, Tigers 0
Seattle - Felix Hernandez allowed just two hits in seven innings, and Kenji Johjima likely scored the most unusual run of his career with a steal of home for the Mariners.
Hernandez became the first Seattle pitcher to quiet the Tigers' bats in their five meetings this season.
Rays 2, White Sox 0
St. Petersburg, Fla. - Scott Kazmir won his fifth straight start, allowing three hits in seven innings for the Rays.
Rangers 8, Athletics 4
Arlington, Texas - Josh Hamilton homered and drove in three runs for Texas.
Yankees 7, Twins 6 (12)
Minneapolis - Bobby Abreu broke a 12th-inning tie with a game-winning single.
Angels 3, Blue Jays 2 (10)
Anaheim, Calif. - Pinch-hitter Juan Rivera delivered the game-winning RBI single in the 10th for Los Angeles.
Copyright 2018 The Associated Press. All rights reserved. This material may not be published, broadcast, rewritten or redistributed. We strive to uphold our values for every story published.