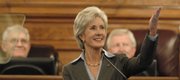 Kathleen Sebelius is the nominee for Secretary of Health and Human Services in Obama's Cabinet. She has served as Kansas' governor since 2002 and before that was insurance commissioner and a state representative.
Manhattan — Federal and state officials Thursday sought to quell concerns about the safety of a proposed biosecurity lab that would conduct research on dangerous diseases.
"It's all about managing the risk," said James Johnson, director of the office of national laboratories for the Department of Homeland Security.
"We feel like if we put in the right layers of safety and security strategies, those risks can be managed," Johnson said.
But several Kansans, including some nearby farmers and ranchers, weren't persuaded as they registered their opposition to the proposed National Bio- and Agro-Defense Facility.
Sandy Cravens, holding a plastic toy pig that had "No Bio" written on it, said she feared what would happen if deadly pathogens escaped the proposed 500,000-square-foot facility.
"In my 58 years of dealing with people, if there are going to be humans involved, there will be human error," said Cravens, of Manhattan.
The comments came as about 200 people gathered for an afternoon meeting to provide input to the federal government on the proposed NBAF, which is expected to cost at least $450 million and produce an annual payroll of approximately $25 million. About 100 people attended the evening portion of the meeting.
The Kansas State University site is in the running for NBAF with five other possible locations: Athens, Ga.; Granville County, N.C.; Madison County, Miss.; San Antonio; and an existing lab at Plum Island, N.Y. Homeland Security is scheduled to pick a location in December.
Homeland Security officials said the new high-security lab is needed to protect the United States from numerous infectious diseases, including potential outbreaks started by acts of terrorism.
Diseases that would be studied at the lab include foot and mouth, classical swine fever, African swine fever, Rift Valley fever, Nipah virus, Hendra virus and others.
Paul Irvine, a livestock producer from Manhattan, said an accidental release of a disease would be devastating. "It's very dangerous to bring these pathogens into Kansas. Some of these are the most dangerous pathogens in the world," he said.
But a number of top elected officials testified in support of NBAF and urged the federal government to build it at K-State.
Leading the charge, Gov. Kathleen Sebelius said NBAF played into Kansas' strengths of animal research and food safety.
"Kansas is uniquely qualified to achieve the NBAF mission. We've been guardians of America's dinner table for decades," Sebelius said during the first part of public hearing.
But Kansas may be facing an uphill battle.
The draft environmental impact statement done for Homeland Security said a release of foot-and-mouth disease in Kansas would result in a $4.2 billion hit on the national economy - the largest amount of any of the proposed sites, according to the report.
But House Speaker Melvin Neufeld, R-Ingalls, disagreed. Noting the concentration of animal research in the Manhattan-area, Neufeld said, "You'd have the expertise here to contain the disease better here than anywhere else."
The draft report said construction costs in Manhattan would be more than most of the other sites. But Kansas officials said the report incorrectly used construction costs based on the more expensive Kansas City, Mo., market.
Copyright 2018 The Lawrence Journal-World. All rights reserved. This material may not be published, broadcast, rewritten or redistributed. We strive to uphold our values for every story published.