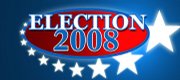 In-depth coverage of the candidates and the issues, all leading up to the Aug. 5 primary and the Nov. 4 general election.
Topeka — Jim Ryun's campaign to reclaim the 2nd Congressional District seat harks back to his days as one of the world's best long-distance runners and the moments after he was tripped in an Olympic qualifying race.
His first television ad showed now-famous footage of Ryun finishing that race in 1972 in Munich.
Ryun's fame helped him win the 2nd District seat in 1996 as a Republican, and he held it for 10 years, beating Democrat Nancy Boyda handily in 2004 for his fifth term. But two years later, Boyda capitalized on a wave of frustration with President Bush and the Iraq war and ousted Ryun.
He expresses confidence that he'll return to Congress. But first he has to persuade fellow Republicans in Tuesday's primary to give him another chance and defeat State Treasurer Lynn Jenkins.
"You learn a lot from your mistakes," Ryun said. "You can stumble, but if you learn from stumbling, it makes you that much stronger as a person and a candidate."
Jenkins argues that Ryun had his chance and made too many mistakes representing the 26-county district of eastern Kansas, which includes the western part of Douglas County. She contends Ryun forgot about Kansans when he went to Washington: "He took our votes and never came back."
"He might have been a good Republican soldier and followed them off the cliff," Jenkins said. "We want leaders in Washington. Someone who has proven to stand up for Kansas families."
Differences in style
Both candidates contend they're fiscal conservatives who'll keep federal spending in check.
"I think the big difference now is almost stylistic," said Washburn University political scientist Bob Beatty.
Jenkins has support from moderate GOP organizations, including The WISH List and Republican Majority for Choice.
Both promote abortion rights candidates, although Jenkins voted as a state legislator for a ban on partial-birth abortions and a parental notification requirement for doctors performing abortions on minors.
Ryun has the strong backing of Kansas and national groups that oppose abortion and higher taxes and promote conservative social values, including Kansans for Life and the Family Research Council.
He has attacked Jenkins' votes as a state senator in favor of raising taxes in 2002.
Jenkins noted that legislators raised taxes to keep the state budget balanced during an economic slump, after they had cut some spending and to avoid deep reductions in aid to public schools and social services.
"I've always been considered a fiscal conservative. I don't think anyone's going to challenge me on that," she said.
During a recent televised debate, Jenkins listed spending projects by Congress in recent years: the infamous "bridge to nowhere" in Alaska, a teapot museum, and a study of the DNA of bears.
"And, God love him, Jim Ryun was right there," she said.
But Ryun said he wasn't responsible for the projects Jenkins listed and was stuck voting for legislation containing money for them and important Kansas projects. He added that he was willing to stand up to the president and his party on spending and other policies.
"I parted ways with my leadership when it was appropriate. I voted against No Child Left Behind when it wasn't right for the people of Kansas," he said. "Rhetoric is cheap. You can say whatever you wish."
Jenkins also said her frustration with Congress' inability to address illegal immigration is motivating her run. She contends Ryun voted at least four times to grant amnesty to illegal immigrants, and her first television ad said she opposes the idea.
Ryun accused Jenkins of mischaracterizing the measures she cited. He also said he worked on legislation to crack down on illegal immigrants, which included more fencing along the border with Mexico.
Match with Boyda
Jenkins has said repeatedly that Republicans need a new candidate if they're to defeat Boyda.
Ryun said voters are comfortable with his views and that his supporters pushed him to run again immediately after he lost to Boyda in 2006.
"It wasn't the best campaign. We can improve on that," Ryun said.
Through mid-July, Ryun had raised almost $1.7 million, compared with about $641,000 for Jenkins. Ryun also spent far more: more than $1.5 million to less than $265,000 for Jenkins.
Some Republicans believe Jenkins is at a disadvantage because she had relatively easy races for state treasurer. She won the 2002 primary and general elections with 56 percent of the vote. Four years later, she had no primary opponent and captured 64 percent of the vote against an underfinanced Democrat.
Beatty said Jenkins didn't have spirited debates and wasn't forced into heated campaigning, adding, "She doesn't have that association with big-time politics."
Ryun began his television advertising in mid-June, a month before Jenkins aired her first spot. She also is doing mailers but acknowledged she has a lot of ground to gain on Ryun as she relies on yard signs, county organizations and word of mouth to build support.
"I don't think that paying money for TV ads can replace face-to-face time with Kansans. These are the places where you hear what people really care about," she said.
Copyright 2018 The Associated Press. All rights reserved. This material may not be published, broadcast, rewritten or redistributed. We strive to uphold our values for every story published.