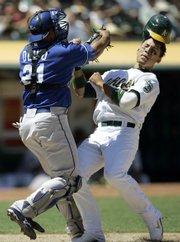 Oakland, Calif. — Jose Guillen had to convince Kansas City Royals manager Trey Hillman to let him stay in the game. It was a good call.
Guillen, who a day earlier had to shoot down rumors that he was unhappy and wanted out of Kansas City, drove in the go-ahead run with a sacrifice fly in the 10th inning and the Royals beat the Athletics, 4-3, Wednesday to complete their first three-game sweep in Oakland in 20 years.
"That inning, I thought Trey was going to take me out because I could barely walk," said Guillen, who went 1-for-4 with two RBIs. "When I came in I was sitting there and I was really sore. He said, 'Do you want me to put Dave (DeJesus) in for defense?' I told him let's get one more and try to win this one."
The Royals last swept the A's in a series in 1999 in Kansas City, but had not done so in Oakland since June 14-16, 1988.
Kansas City's defense had trouble early, allowing a pair of short pop-ups - including one in front of the pitcher's mound - to fall in for base hits. The Royals also hit into three double plays with the go-ahead run at second base and the bullpen blew a win for hard-luck starter Brian Bannister.
Despite all of that, Kansas City managed to hold on for its fourth straight win overall and its fifth consecutive on the road.
"It's nice to be on the positive end of some history," Hillman said. "It's not good when you see pop-ups dropping, but we won the game."
The slumping A's fell to 2-10 since the All-Star break, the worst record in the majors in that span, and fell under .500 for the first time since April 6.
Esteban German led off the 10th with a pinch-hit walk against A's closer Huston Street, then took third when Mike Aviles doubled just beyond the glove of diving right fielder Ryan Sweeney. After an out and an intentional walk of Alex Gordon, Guillen's fly to center field scored German.
Copyright 2018 The Associated Press. All rights reserved. This material may not be published, broadcast, rewritten or redistributed. We strive to uphold our values for every story published.