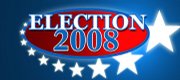 In-depth coverage of the candidates and the issues, all leading up to the Aug. 5 primary and the Nov. 4 general election.
Candidate finances
Douglas County Commission, Second District
Douglas County Commission, Third District
Republican John Tacha and Democrat Nancy Thellman have raised the most money among the eight candidates in the Douglas County Commission races, according to campaign finance reports through July 24.
Tacha, a former Lawrence school board member, has also spent more than any other candidate. Thellman, a Presbyterian minister, has the most cash on hand ahead of Tuesday's primary election when voters will whittle down the field to four candidates for two seats.
Tacha faces Jim Flory, a former Douglas County district attorney and federal prosecutor, for the GOP nomination in the third district seat, which includes western Lawrence and the western half of the county.
Tacha has raised $18,620 and spent $15,169.29. Flory has raised $5,879 and spent $4,616.37.
On the Democratic side of that race, Ken Grotewiel, a former Kansas Water Office official, led former teacher Clenece Hills in fundraising, $7,110 to $6,396.11. Hills has more cash on hand, $1,244.59 to $814.28.
In the race for the second district seat - which includes North Lawrence, southeastern Lawrence and the eastern half of the county - Thellman raised $10,225 to top her Democratic opponent Ken Adkinson, retired owner and manager of a crop-production business in Eudora, who raised $1,595. Thellman has spent nearly $4,000 in the race compared with Adkinson's $122.90, but she still maintains a $4,800 advantage on money in the bank.
The Republican race in the second district has been the cheapest of the four. Grant Eichhorn, owner of Lawrence-based Rueschhoff Locksmiths and Security Systems, received one $100 donation, spent $50 to set up a checking account and loaned his campaign $3,000.
He has spent $2,409.75 on campaign materials. His opponent, David L. Brown, a Baldwin City resident who recently retired from the Douglas County Sheriff's Office, raised $975 and spent $921.85.
In the Republican primary race for the Kansas State Board of Education for district four, which includes western Douglas County and most of Lawrence, Robert Meissner, of Topeka, and his wife, Sharon, loaned his campaign $5,000. With other contributions, the campaign has $10,020, and none has been spent.
His opponent, Alan Detrich, of Lawrence, has signed an affidavit that says he won't spent more than $500 on the campaign.
Copyright 2018 The Lawrence Journal-World. All rights reserved. This material may not be published, broadcast, rewritten or redistributed. We strive to uphold our values for every story published.