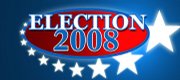 In-depth coverage of the candidates and the issues, all leading up to the Aug. 5 primary and the Nov. 4 general election.
As of Wednesday, 818 advance votes had been cast or mailed into the Douglas County Clerk's office for Tuesday's primary election.
One week ago, voters had cast 423 advance ballots.
Advance primary election ballots can be cast at the Douglas County Courthouse, 1100 Mass., until noon Monday. The clerk's office will be open 8 a.m. to 5 p.m. today and Friday, and 8 a.m. to noon Saturday for voters.
Precinct polls will be open from 7 a.m. to 7 p.m. Tuesday. Voters in each party will decide who gets to move on to the November general election in races for Douglas County Commission, Congress and Kansas State Board of Education.
Copyright 2018 The Lawrence Journal-World. All rights reserved. This material may not be published, broadcast, rewritten or redistributed. We strive to uphold our values for every story published.