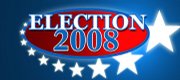 In-depth coverage of the candidates and the issues, all leading up to the Aug. 5 primary and the Nov. 4 general election.
Topeka — The Republican 2nd Congressional District race heated up Monday as Lynn Jenkins accused Jim Ryun of voting himself pay raises in Congress while rejecting a bonus for soldiers in combat.
"Jim Ryun chose politicians," says a Jenkins campaign mailer. "He gave himself a pay raise - instead of our troops."
Ryun's campaign quickly denounced the ads, accusing Jenkins of "grossly misleading voters."
Dale Herspring, a 30-year military veteran and chairman of Veterans for Ryun, said Ryun voted to increase the pay of soldiers 27 times while in Congress.
"He has been rock-solid in support of the military," Herspring said.
The dispute is over votes by Ryun in 2001 and 2003 to increase the pay of those in Congress. Then in 2003 he voted against a $1,500 bonus for every soldier serving in Iraq and Afghanistan.
The bonus failed in the House on a 213-213 vote, so Jenkins says if Ryun had voted for the bonus it would have passed.
But Herspring said that Ryun voted against the bonus because it would have been paid for by redirecting critical funds to safeguard troops and civilians in those wars.
Ryun's vote on the bonus came up in 2006 when the Democratic Congressional Campaign Committee ran an ad criticizing him.
The winner of the GOP primary next Tuesday will face Democrat Nancy Boyda, who defeated Ryun in 2006.
Copyright 2018 The Lawrence Journal-World. All rights reserved. This material may not be published, broadcast, rewritten or redistributed. We strive to uphold our values for every story published.