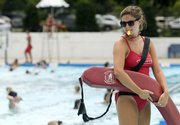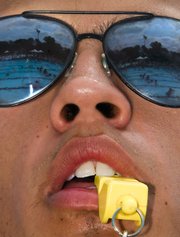 On the street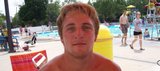 Having to watch a lot of kids when there are so many people in the water.
Most people forget they're watching.
Oblivious to their presence, excited children slither down slides and plunge into the water. Forgetting they have an audience, eager teenagers spring from diving boards, twist their bodies into pretzel shapes and lunge toward the pool's bottom. Unaware they're being eyed, blithe tweens creep from the shallow to the deep end, their heads dipping in and out of the water as they go.
All the while, sitting in tall chairs that tower over the pool, lifeguards - the police officers of the pool - are watching.
They're the safety net allowing pool patrons the luxury of oblivion. Sixteen-year-old Tiana Byers says while she's on duty, she constantly invents what-if scenarios and mentally runs through training protocol.
"It's just constant scanning," Byers says. "You have to always make sure their airways are above water, and you're always thinking about something that could happen."
Byers is a first-year lifeguard with a six-year swimming background. She's been on swim teams for years and is interested in pursuing a career in the medical field. She thought spending her summers as a lifeguard was a rung up the right ladder.
"I enjoy it, and I love the pool," she says. "And I thought it would be nice to help people, to keep them safe while they're trying to have fun."
During the summer, the two Lawrence aquatic centers - outdoors at 727 Ky., and indoors at 4700 Overland Drive - employ about 160 lifeguards. Like a revolving door, the lifeguards rotate from the indoor to the outdoor center and back again. But in order to climb the tall chair, lifeguards have to go through an in-depth training course. Crammed with physical and mental tests, the course lasts eight hours a day for a week.
"It's pretty intense," says 19-year-old Julia Guard. "We learn how to handle head, back and neck injuries, first aid, and how to pull kids from the water."
Guard says the skills she learned during training always re-emerge at crucial moments. She's had to save a few lives, mainly children ages 5 to 10 who can't manage to swim to the wall or ladder after slipping down the slide or jumping from the diving board.
"It's definitely an interesting adrenaline rush when you realize someone is drowning right in front of you and you have to jump in after them," Guard says. "And when you finally sit down and you've already saved the person, your heart is still racing."
Kyle Ukena, 22, has been a lifeguard for Lawrence Parks and Recreation for five years. Ukena, who also gives swimming lessons, says training makes rescues instinctual. When Ukena sees someone sinking and flopping about, he dives in.
"You don't really think about it when you're jumping in," Ukena says. "You just jump in and then afterward you think about it, like 'That could have been really bad.'"
'Drama'
While training puts lifeguards in positions to react instantly, they rarely need to. Outside of belting out orders to slow down, to stop bullying or to quit playing on the ropes, lifeguards mainly do a lot of sitting, a lot of watching and a lot of waiting.
A lifeguard for three years, 18-year-old Gabe Moss says the days can sluggishly ooze by. Each lifeguard does three 20-minute shifts, followed by one 20-minute break. During his shifts, Moss entertains himself by drafting after-work plans, analyzing parenting techniques or yelling out orders.
"It really goes by a lot faster than you'd think, especially when you have to yell at kids, but you definitely don't want to look at the clock," he says. "Yell at kids some, think about stuff, daydream - but never look at the clock."
The pool can't match the excitement of an episode of "Baywatch." But it might be as entertaining and dramatic as an episode of "Days of our Lives."
"There's drama happening all the time," Ukena says. "Like, you'll see two best friends, and one will throw the other one towards the wall, and you'll think 'How is that a good idea?' And there's this girl who never gets in the pool, but comes every day. She comes every single day and walks around the guys, so that's big drama."
Ukena enjoys watching people. It's interesting to see teens switch love interests and best friends on a whim, he says. But the drama can whittle down nerves.
'Birth control'
Ukena tells people interested in having children to come spend a day or two at the pool, because in a way, it's like parenting.
"Lifeguarding is a good abstinence or birth control program," Ukena says. "You know some kids because they're here every day. They just come as daycare."
Lifeguards are supposed to enforce a rule that requires parents on-site to be with their children. By mid-afternoon, though, many moms are sprawled out on towels tanning, letting their children splash and slosh about while the lifeguards watch. And some parents plunk their kids off at the pool before running errands or heading to work.
"We're the cheapest baby-sitters in town," Moss says. "There's a lot of kids that are here every single day."
But seeing a lot of the same faces is part of the job's appeal, Byers says. It lets lifeguards watch the children progress.
"You'll see a little kid who will be so scared at the very beginning but then by the end they're really going," she says. "It's really cute to see them grow."
Copyright 2018 The Lawrence Journal-World. All rights reserved. This material may not be published, broadcast, rewritten or redistributed. We strive to uphold our values for every story published.