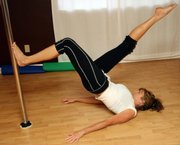 Fresno, Calif. — Danielle Cash's idea of a good workout used to be exercising her right to say, "No thanks." The 28-year-old Fresno, Calif., woman tried Tae-Bo. She tried pilates. She tried doing yoga along with television fitness shows. None of it lasted very long.
"I'm allergic to exercise," she says.
But a couple of months ago, Cash discovered a pole-dancing fitness class at Pulse Holistic Center in Fresno, and life hasn't been the same since. Each week, she attends two classes, spends another hour on a private lesson - and she bought a pole for her home.
"I know. It's silly," she says. But she was hooked from the first class. "It got your heart pumping, and we were working, we were learning things, and it was fun."
Long associated with strip clubs and burlesque shows, pole dancing has moved into the fitness mainstream the past few years, largely on the strength of S Factor, a nationwide studio that has been featured on Oprah Winfrey's talk show.
Maegan Stringfield, an instructor certified by the International Pole Federation, has taught pole-dancing fitness for women at Pulse since November. Demand for the classes is such that they now make up more than half of the center's schedule.
Kendra Glazebrook, another of Stringfield's students, says it's easy to see why.
"Before you know it, the hour-and-a-half is up," the 28-year-old Fresno woman says. "That's the workout for me, the one that I totally forget the time, because I'm having so much fun."
Stringfield says her classes take the drudgery out of exercise.
"People are so done with the blankness of a treadmill," she says. "Women love to have fun and get together. But also they get a great workout at the same time."
Karen Teare, another Pulse pole-dance instructor, says her classes offer a workout for the whole body. They start with stretches that incorporate different disciplines before moving to routines on the pole.
"You are doing squats most of the time and working your abs and arms," she says. "When you get a routine together, you're working everything all at once."
Stringfield says her students range from 18 to 73 years old. Although it's not for women in the latter stages of pregnancy, pretty much anyone who's healthy can participate.
If avid students appear to be drawn to the classes like $1 bills to G-strings, not all women are comfortable with the idea of gyrating, prancing and bending their bodies around a pole.
Instructor Teare says it's a hurdle to overcome for some students.
"Women are told that they're somebody's mom now, or they're somebody's wife now," she says. "I say, 'Forget all that. You're not too old. You're not somebody's mom (in here).' ... Women leave here feeling very good, very strong, very sexy, confident and ready to come back."
It's definitely not a stripper class, says Megan Hopkins, 27, of Hanford, Calif. "I really liked that they say, 'Come as you are.' It doesn't matter your body type. It doesn't matter your strength level. You will build the strength. You will build the confidence."
Though there is no instruction involving the removal of clothes (the barefoot participants often wear yoga outfits), there is a distinctly sensual air to the workouts. The women roll their hips, walk high on the balls of their feet and bend over nearly backward while clinging to the pole.
Students start each class stretching to the sounds of slow guitar instrumentals (think Sia's "Breathe Me") before the workout intensifies along with the music. Def Leppard's "Pour Some Sugar on Me" and Britney Spears' "Gimme More" are a couple of favorites.
But a recent Monday night beginners class was no more salacious than a couple hours spent at a dance club. The Pulse climate is much closer to pajama party than singles bar, with lots of giggles, upbeat instruction ("Walk pretty!") and encouragement masquerading as lightly growled catcalls.
Glazebrook had qualms about pole dancing's naughty nature. But in one sense, it appealed to her.
"I was always a tomboy," she says. "I liked climbing trees. I'd climb anything that was around. (I like that) I can cut loose and try to be (feminine) and alluring instead of being a tomboy all the time."
April Andronicous, 23, of Kerman, Calif., says friends and families don't always understand that pole-dancing fitness is playful, not skanky. Or maybe it's just that they don't want to understand.
"Everybody likes to crack jokes, of course - 'Don't forget your stilettos!"' she says. "But it's so much fun, it doesn't even matter."
Cash agrees. Her husband encouraged her to start taking the class, and in return, she's glad to share the experience with him.
"I'm learning some things I can take home to my husband," she says, giggling. "He's very happy about that. (It's all about) strengthening the relationship."
Copyright 2018 The Lawrence Journal-World. All rights reserved. This material may not be published, broadcast, rewritten or redistributed. We strive to uphold our values for every story published.