Photo Gallery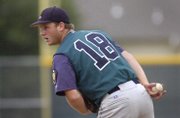 Lawrence Raiders vs. Atchison
The Lawrence Raiders had more than enough runs to defeat Atchison before any of their batters got out in the championship game of the American Legion Zone Tournament on Saturday at Ice Field.
Lawrence scored seven of its 22 runs before an out was recorded in the bottom of the first inning in the Raiders' 22-3 victory.
"It was different. You don't see that a lot of time," the Raiders' Ben Wilson said about getting to a pitcher the first time through the order. "But coach (Shaun Edmondson) does a great job getting us prepared for a big first inning. And that's what we did tonight. We just batted through our lineup, and everybody seemed to be on, and it's hard to beat a team when a lot of people are on and doing things right."
After an hour delay due to lightning in the area, the Raiders ended up posting 13 runs in the bottom of the first.
"It was kind of fun just hanging with the boys for an hour, telling stories and relaxing," Edmondson said of the delay. "So that was kind of fun."
The lightning provided the only strikes the Raiders were seeing throughout the game.
Raiders batters walked 13 times to go with six hit batsmen.
"Coach E. preaches a lot about unselfish at-bats, as far as getting hit by a pitch or walks, being the biggest parts of our offense," Wilson said. "It gets an inning going, and it's free bases. That's what coach preaches a lot on offense."
In the first inning alone, Atchison issued five walks and plunked four batters.
Lawrence collected five hits in the first and only two of them were for extra bases - a pair of doubles by Travis Sanders and Joe Kornbrust.
"My good old lucky sock," Kornbrust said referring to the cover on his bat, which helped him knock in a game-high five RBIs. "The pitching wasn't all that great, but everything just came together."
Raiders starting pitcher Drew Hulse picked up the win after going five innings and allowing three runs on five hits with eight strikeouts. Kornbrust came in to finish the final two innings - including striking out the side in the seventh.
Clint Pinnick supplied most of the offense from the bottom third of the Raiders' order. Pinnick went 2-for-4 with four RBIs and two runs scored.
No. 9-batter Tyler Hatesohl joined Kornbrust and Sanders with the Raiders' only extra-base hits with his leadoff triple in the second inning. Matthew Abel hit a sacrifice fly to score Hatesohl in the next at-bat.
"This gives our offense a lot of confidence going into the state tournament," Wilson said about putting up a total of 68 runs in three zone tournament games. "It's just good to have our bats being so hot at the right time."
The Raiders return to state looking to avenge last year's loss, which ended a four-year streak of state titles. Lawrence will play Game 1 of the tournament Friday in Pittsburg against Blue Valley, winners of Zone 3.
Copyright 2018 The Lawrence Journal-World. All rights reserved. This material may not be published, broadcast, rewritten or redistributed. We strive to uphold our values for every story published.