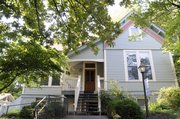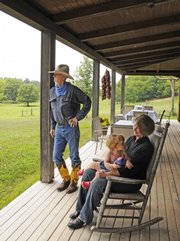 On the street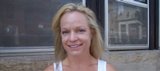 Sure, because I've lived here for several years and have never been able to really explore everything that Kansas or Missouri has to offer. And now that I have kids, I feel like it's really important to introduce them to that.
The Circle S Guest Ranch & Country Inn has 12 rooms, 1,200 acres and roaming herds of bison and cattle.
For a night or a week, it can be a home away from home.
And for many who stay at the Lawrence bed and breakfast, the home they left isn't very far away.
Manager Debbie Lane estimates 75 percent of the inn's business comes from in and around Topeka, Kansas City and Lawrence.
"A lot of our people come from Kansas City because it feels like you're a million miles away and it's only less than an hour," Lane says. "It is a perfect place for that - to not have to travel far and really get away."
This summer, the idea of the "staycation" - a vacation at home, or close to it - is ideal for families feeling the effects of high gas prices, airline woes and the downturn in the economy.
"With the concerns people have about the economy and their own individual circumstances, we have found that people haven't stopped traveling. What they have done, is take either take shorter trips to destinations closer to home," says John Novotny, manager of Travellers Inc, 831 Mass. "Or they've gone ahead and gone to further destinations, more traditional vacation destinations, and are just staying in less expensive accommodations and making sure they got the best value that they could for their air transportation. And maybe doing less fine dining and things like that to go ahead and make the longer (vacation) affordable."
And though the summer is half over, the people who run area bed and breakfasts are starting to notice "staycationers" signing the guest book.
Karen Doue, manager of the Halcyon House Bed & Breakfast, 1000 Ohio, says she will often check in people from the area looking to vacation close to home.
"We get a lot of people from Kansas City that just want to get away," Doue says.
She then ticks off the residents she's had recently - at least four from Kansas and several from the Midwest, including the states of Iowa and Minnesota.
Sometimes, though, the people looking to get away could have come on foot. She says she gets four or five couples per year from Lawrence who aren't looking for anything other than a night away from the kids.
"A lot of couples do that. The grandparents usually will come and stay with the kids," Doue says. "In fact, it was cute - this one morning one couple told me and I said, 'Where are you from?' and he said, 'Down the block.' They lived on Tennessee Street. And I said, 'Well, did you walk?'"
Even without kids, the looming projects at home may make a "staycation" at home less than pleasant says Shawna Garber, co-owner of Three Sisters Inn Bed & Breakfast in Baldwin City.
"When you get out of the house, you get away from all of the projects that you feel like you should be doing," Garber says. "But for me, generally, it's getting away from feeling like when I'm at home trying to take a vacation, there's still laundry, there's still the house that should be clean, there's still the grass that should be mowed. Just even coming 15 miles away, you don't have to deal with that and you can relax a little bit more."
And Novotny says, that for some people, spending that money is worth its weight in gold just because of that relaxation factor.
"For some people, travel is a big stress relief. And let's face it, right now we've got the economy, the high cost of fuel, most people are working harder at their jobs than they've worked in the past, and they need to get away and kind of put things back into perspective - that vacations are important," Novotny says. "Sometimes when things aren't as good as they've been in the past, sometimes people turn more to a vacation than they have in the past. Because things are more stressful than they have been, they do have more on their mind and they need to get away from all that to come back with a better frame of mind."
Copyright 2018 The Lawrence Journal-World. All rights reserved. This material may not be published, broadcast, rewritten or redistributed. We strive to uphold our values for every story published.