Photo Gallery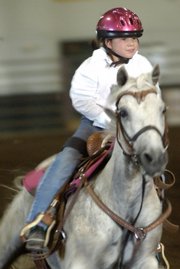 Douglas County Fair Barrel Races
A lot of hard work went into a few seconds and a cloud of dust Friday night at the Douglas County 4-H Fairgrounds.
Area youth and open-class racers - 91 total from the area - saddled up their horses to ride around three barrels in the ring as fast as they could.
It was the Jackpot Barrel Racing Competition that kicked off the first weekend of the Douglas County Fair.
"Horses teach kids a lot of things," said Danielle Donham, who will be a junior at Spring Hill High School.
She had ridden 8-year-old Molly a few minutes earlier in the youth competition in a time of about 16 seconds on the dirt track. Her family had raised the horse, and Danielle said she learned a greater sense of responsibility caring for the animal.
The barrel racing competition is a fitting way to start the first weekend of the fair, said 10-year-old Regan Zaremba, who attends Raintree Montessori School.
Regan rode the horse Zinger to a first-place finish in her division. It was the first time she ran him in competition.
Along the course, three barrels are placed along the edges of the ring to form a triangle.
The competitors ride their horses in a clover-leaf pattern around the two side barrels first and then the one at the back of the ring before the horse sprints to the front. The horses have to make quick turns around the barrels.
Regan said it takes time to train the horses for the course. First, they have to be walked through the pattern and then trotted before they can be turned loose.
But putting in plenty of hours on projects to show your progress in front of the community is what 4-H and the fair is about, she said.
And some other things, too.
"I get to see my friends the whole week and everything. It's just really fun," Regan said.
Event Schedule
The fair continues today with the 4-H Horse Show at 11 a.m. in the community building.
The open horse show will be at 9 a.m. Sunday.
Other highlights this week include the Moore's Greater Shows Carnival, Wednesday through Aug. 2, and the band "Ricochet" will perform 8 p.m. to 10 p.m. Thursday at the block top area. The demolition derby is 7:30 p.m. Friday.
For a complete schedule, visit the fair's Web site at www.dgcountyfair.com.
Copyright 2018 The Lawrence Journal-World. All rights reserved. This material may not be published, broadcast, rewritten or redistributed. We strive to uphold our values for every story published.