On the street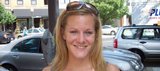 I think it would be interesting to have a female vice president to bring some balance to his administration. I think she would do well, looking back on everything she's accomplished. I think she would be an asset to him.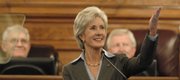 Kathleen Sebelius is the nominee for Secretary of Health and Human Services in Obama's Cabinet. She has served as Kansas' governor since 2002 and before that was insurance commissioner and a state representative.
Recently, Gov. Kathleen Sebelius started making the short list of possible vice presidential candidates on U.S. Sen. Barack Obama's ticket because after Obama secured the Democratic nomination, about one million political writers following his campaign had nothing else to do.
So here are 10 reasons why Sebelius should be Obama's running mate, and 10 why she shouldn't.
Obama should pick Sebelius because:
1. She's a woman who is not Hillary Clinton.
2. Red state street cred.
3. She has a strong political pedigree.
4. In control (there will be no embarrassing leaks from a Sebelius vice presidency).
5. Leadership (she's actually got some stuff done).
6. Obama and Sebelius seem to genuinely like each other.
7. They are both jocks.
8. She has the governor thing down.
9. National media would parachute into Kansas and write "Dorothy" leads.
10. She could market "Don't Drop the Soap" while on the campaign trail.
Obama shouldn't pick Sebelius because:
1. Governor, you are no Hillary Clinton.
2. Foreign policy experience mostly limited to incursions into Kansas City, Mo.
3. Who would Melvin Neufeld criticize?
4. Sebelius-Romney debate would put nation to sleep for years.
5. McCain will win Kansas.
6. National media would parachute into Kansas and write "Dorothy" leads.
7. Too careful politically.
8. Not a gray-haired white male.
9. Gaffes will occur (Kansas wines, Missouri roads).
10. First dude would lose cool-sounding title.
Copyright 2018 The Lawrence Journal-World. All rights reserved. This material may not be published, broadcast, rewritten or redistributed. We strive to uphold our values for every story published.