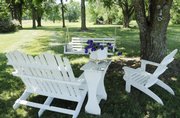 For years, Win and Linda Campbell were proprietors of Campbell's Clothiers in downtown Lawrence, helping professionals dress the part. They also own Winfield House, a furniture store their son now runs.
Now in semi-retirement, the Campbells have turned their attention to their country farmhouse home situated on 12 acres of sprawling Kansas magnificence in the southwest vicinity beyond Lawrence city limits.
As I cruise up the narrow, winding drive the cumulus clouds are casting purple shadows across the expansive prairie views below.
This would be an easy place to get lost - both lost physically and in your thoughts, as the property is secluded, quiet and breathtaking. Their home dons a large front porch with ample seating opportunities. It is quite obvious how the Winfield House and the Campbells' style intersect, as nothing is randomly placed but every detail is meticulously and lovingly thought out to create a haven.
Duke, the Campbells' golden retriever greets me with his shadow, Leo, the neighbors' dog. Linda and Win are seated in one of many outdoor sitting areas. This space is under a rambling hedge tree with all-white furnishings - a porch swing suspended from a sturdy branch, a couple of Adirondack chairs and a petite table with a white tin planter brimming over with purple petunias.
This beckons one to languish a while there, as does the area with all-maroon furnishings, or the hammock that Linda has set up in her "secret garden" for an afternoon siesta, sparing no detail as pillows and a quilt weigh down the rope bed. The atmosphere is comforting, welcoming and, with a good book and a little bug spray, I imagine many days are whittled away.
Life here is not all play - there is work done as well. Win has fashioned quite an impressive vegetable garden using tall hedge branches and chicken wire to create an imposing fence, with a reclaimed iron gate rooted among the basil and sage. The garden is sectioned into four areas with crisscrossing paths and tall, plump zinnia blooms flanking either side. Win enjoys growing food.
"It's a hobby, its fun and if you like to eat fresh stuff this is a good way to do it," he says. "It is work, but I need to keep my weight up so I love to eat it."
Win grows tall sweet corn in one of the four quadrants, which will be ready to pick and eat soon. Another area still has lettuces and Swiss chard despite the time of year. He grows tomatoes, potatoes, squash, zucchini, green beans, onions, green peppers and asparagus, to name a few of the edible savories.
The growing is done by Win, but the aesthetics of the garden are created by Linda, with a metal scarecrow, brick paths, a little bench outside the gate, adorable bird houses scattered about and pots of annuals adding colorful splashes.
The back of their home has a wonderful man-made pond with a dock that Win made in his workshop and four Adirondack chairs that he also created and painted baby blue, rosy pink, soft yellow and sage green. The entire scene looks as if it was torn out of a J.Crew catalog. The only thing missing is some entirely too-good-looking couple drinking lemonade with their shirt collars up.
The pond is stocked with bass, channel cat, bluegill and crappie, and the fish are jumping out of the water like a ballet performance is underway.
As we continue on our "nature walk," we tread on swaths of prairie grass that Win has etched out with his old 1948 tractor. We come to an old shed painted a faded red with an aged wire fence protecting a garden of wildflowers. There are tin signs that hang on the outside of the shed.
"The mice and the snakes have a comfortable home in the shed," Win says. "Linda always puts little signs and decorating touches everywhere, signs with sayings like 'use it up, and wear it out.'"
Linda giggles and turns a little red as she muses at the idea of decorating for mice and a 60-year-old tractor.
The prairies are full of surprises, even after eight years in the home. The Campbells see wild dogwoods, black-eyed susans, daisies, asters, red butterfly bush and a smattering of prairie plants that sparkle with color in the mid-morning sun, never knowing what will pop up in any given year. Possibly one of the best finds were black raspberry bushes that Linda harvests and makes a delicious jam out of. As our time together is over, the Campbells graciously give me a jar of jam, and I drive away wondering which comfortable area will occupy their time and efforts later on in the day.
Copyright 2018 The Lawrence Journal-World. All rights reserved. This material may not be published, broadcast, rewritten or redistributed. We strive to uphold our values for every story published.