Photo Gallery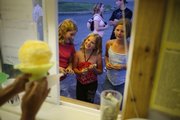 Tad's Tropical Sno
On the street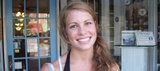 The Fla-Vor-Ice pops that you push up out of the plastic.
The flavors are like those from a kid's daydream on a summer day: Jurassic Juice, Blue Cotton Candy, Wipe Out - all fruity, neon-colored goodness.
Since 1995, Tad's Tropical Sno has been churning out mounds of warm-weather confections to customers young and old from its tiny 12-by-14-foot space at 939 Iowa.
Back then, owner Tad Gellender built the shack, set up shop and opened the first of six stores across the state with the Tad's name. Gellender was a recent college grad from Pittsburg State with a business degree and the crazy idea that folks in Midwest college towns would love a shaved ice treat.
Turns out he was right.
Manager Ali Dankenbring estimates the Lawrence store goes through up to 1,600 cones on a busy, hot day, which means using 42 gallons of ice and multiple gallons of flavored syrup. Per week, the store uses 60 to 70 gallons of flavored syrup and easily cleans out all five freezers filled with ice that are crammed into the space.
Fans love it so much his college-age customers ask for it by name - inebriated and in the middle of the night.
"They call my business line enough. Kids do that all the time when they're drunk or whatever," Gellender says with a smile.
Cool customers
The pull of Tad's is strong for the real snow cone lover, and there's no end to the repeat customers. They are happy to show up nearly every day from the beginning of the season - the store opens the day after spring break - until the leaves are turning when Tad's closes for the winter in October. All Gellender has to do is take the shutters off the windows, and the regulars flock to the shop.
"I don't even need to advertise," he says.
None of his six stores do, and he can't imagine the 75 stores he supplies in Kansas and Nebraska need to do much either - not with the loyalty of the regulars in play.
"There are definitely regulars. We have this lady who gets black cherry, like six big Jayhawks (the second-largest size) of them and puts them in her freezer every time and saves them," Dankenbring says. "And there's just certain people that just walk up ... and most of them are slightly surprised that you remember their order. But when you see them every day you just kind of pick up on what they usually get."
Dankenbring says that the folks behind the counter do try and get customers out of their ruts, since the majority flocking to the store's top three flavors: Summer Breeze, Tiger's Blood and Turtle Power. Recently, the shop posted a list of employees' favorites to bump up interest in the other 130 or so flavors Tad's carries. And the employees always suggest adding "'cream," a thick, dairy topping.
"It just makes it taste really creamy like ice cream," Dankenbring says.
Honking for 'sno'
Siblings David Fristoe and Brenda Flippin, both 19, definitely feel the pull of the cone. The brother and sister drove in recently from Olathe to Lawrence, just to get cones - despite the price of gas.
"It's delicious," Fristoe says, digging into his half-and-half of cherry and grape, saying he's also gone all the way to Independence, Mo., to get his snow cone fix.
Fristoe decided to introduce his sister to his addiction and made her an easy convert.
"I don't think I can finish it. I'm going to try to do it, though," she says after musing about what it would be like to get a job making - and eating - snow cones every day.
And though Flippin admits their trip from Olathe also included a stop at a pet store, she says her Hawaiian Spike watermelon-kiwi-strawberry flavored cone makes up for every gas-guzzling mile.
"These snow cones would have been worth (the drive) anyway," she says. "Just by themselves."
Copyright 2018 The Lawrence Journal-World. All rights reserved. This material may not be published, broadcast, rewritten or redistributed. We strive to uphold our values for every story published.