Photo Gallery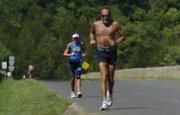 Midwest Mayhem Triathlon
It was nothing new for Allyn Smith.
But for Maggie Pickhardt it was a first.
Smith and Pickhardt were the overall winners of the short-course race of the Midwest Mayhem Triathlon on Sunday at Lone Star Lake.
Smith won the event's short course in 2005 and placed second last year.
"I'm always kind of up there toward the top," Smith said. "Sometimes I win, sometimes I don't. I worked really hard today. It was hot and windy, but it was a good day and a good result."
While Smith is accustomed to getting the gold, Sunday's victory for Pickhardt was her first.
"I'm pretty excited, because this is my first overall win in any triathlon that I've done," Pickhardt said. "I've gotten, like, second and stuff, but this is my first first place so I'm pretty excited about that."
The short course was a 500-meter swim, a bike ride of 11.4 miles and a 3.1-mile run.
Pickhardt is relatively new to the adult-triathlon scene.
"I used to do a lot of kid triathlons when I was younger," said Pickhardt, a 16-year-old from Arkansas. "Just last summer I got more into them, doing some adult triathlons. So I'm getting more into it. My brother and my dad are big in triathlons, and they just sort of got me into them as well."
Competing in triathlons is also a family affair for Smith. His wife, Pamela, took third in the women's short-course race.
"It's fun, though. There's times she'll get first, and I'll get, like, second," said Smith, a resident of St. Joseph, Mo. "Lately, she's been winning more than me, though."
Despite struggling through the elements of extreme heat and strong winds, Smith improved on his time from last year's second-place finish.
"When you're coming from the north, there's a south wind, and there's this long hill that had a nice headwind coming into it," Smith said. "So it kind of turned it into a long hill. But I still ended up a minute faster than last year. So I was pretty happy with that."
Copyright 2018 The Lawrence Journal-World. All rights reserved. This material may not be published, broadcast, rewritten or redistributed. We strive to uphold our values for every story published.