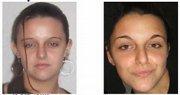 Texas law enforcement authorities believe a missing and endangered child may be in Lawrence, where she last logged into her MySpace account.
Ashley Brown, 15, of Katy, Texas, could be with a man in his 30s, the Harris County Sheriff's Office said.
Brown indicates she's 18 in her online profile, which she last signed into July 8, said Albert Perez, a sheriff's deputy in Harris County. The investigator said he traced the log-in to an IP address that was registered to an unknown research and education network in Lawrence.
Brown, who may use the alias Arianna Maria Sanchez, has been missing since April 24. She is 5 feet 8 inches tall and weighs 150 pounds. She has brown hair and green eyes.
Brown's mother also received information online indicating the man may be moving to Lawrence with the girl, Perez said. The investigator did not release any information about the man's identity.
If anyone has any information regarding Brown, contact the National Center for Missing & Exploited Children at 800-843-5678 or the Harris County Sheriff's Office at 713-221-6000.
Copyright 2018 The Lawrence Journal-World. All rights reserved. This material may not be published, broadcast, rewritten or redistributed. We strive to uphold our values for every story published.