Photo Gallery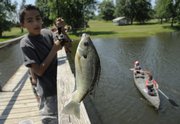 Amazing Grace Baptist Camp
Ottawa — Ten-year-old Taylor Webb hunches over a round, wooden table inside her cabin. She tightly grips a pencil and presses it against a strip of white paper. She's already sketched a near-perfect replica of a KU Jayhawk and is working on a new project. Markers, pens and pencils spill from the table Taylor works at.
But also on the table are Bibles, hymnals and devotional puzzles. Taylor is at the Amazing Grace Baptist Camp about 6 miles north of Ottawa, and she says she's having the time of her life.
"I love it here," Taylor says. "It's awesome and a lot of fun."
Amazing Grace campers come from Kansas, Michigan, Iowa, Nebraska, Oklahoma and Missouri. The site is used for retreats and youth camps. July is set aside for teens, tweens and children. Sixty-five third- to sixth-graders filled the camp last week.
While other kids were enjoying a variety of activities, including human foosball, Frisbee golf, tetherball, canoeing and carpetball, Taylor was spending her time drawing. Drawing and learning about God are two of her favorite things, which is why she loves the Amazing Grace camp so much.
"I think it's important for people to go to church because I want them to be able to go to heaven and be with God," Taylor says. "I try to teach people, but it's hard because they're always like, 'Oh, let's do something else,' or something like that. But I try."
Taylor doesn't have to worry about teaching God's word while at Amazing Grace camp, though. Campers come from Midwest churches, and counselors are recruited from Bible colleges. And the camp is like a bicycle wheel: All spokes lead to God. There's morning and evening chapel, and some of the games revolve around the Bible. Campers compete against each other and get points for memorizing verses and answering biblical-based questions.
Growing need
Camp director Aaron Burton says the goal of the camp is to pull people away from their normal media-saturated environment and provide a place they can grow closer to God, while having fun.
"We try to bring it back to God," Burton says. "We really try to encourage them to live the way they should. And through the games, we always try to emphasize the Bible."
Burton has directed the camp for three years. He lives on the 73-acre campgrounds with his wife and three children, 1 month to 4 years. And with a staff of 35, Amazing Grace has a sleeping capacity of 150, though Burton hopes to eventually add on.
"There are churches so big we can't accommodate them," Burton says. "So we have a lot of desire to expand."
Because campers' usual lives are packed with TV and the Internet, the camp involves no e-mail or "Hannah Montana." And campers are told to leave laptops, iPods and cell phones at home.
"We see camp as time away from stress and the things they are used to," Burton says. "They get a lot of movies and Internet at home, so we try to get them out of that environment for a while. Not that it's bad, but when you're at camp, you're at camp."
To keep the campers entertained, activity leaders try to cram fun activities into each day. Dodgeball, hay rides and night hikes are some camper favorites.
Adjustment period
Tobi Barta, 9, and Kennedy Jerome, 11, are from Bonner Springs, and they're having their first camp experience.
At first Tobi was homesick. She felt like puking her second night. But by Wednesday, she was having too much fun to even think of home.
An avid reader, Tobi brought a book to camp but found no time to plunge into it.
"I read maybe two pages," she says.
Because campers are young and the schedule is so different from the one they keep at home, naps make their way into the daily routine. Naptime, cloaked under the title "Woozy Time," inched its way into Wednesday's schedule, and at 3 p.m. Tobi and Kennedy clomp back into their cabin to rest. And Taylor puts away her pencils and climbs into her bed.
A quick dip
Assistant program director B.J. Denham mills around the dining hall for a few minutes, waiting for nap time to be over.
"I love this. This is what I went to college for - camp," Denham says. "You really get to form a relationship with the campers because the majority come year after year."
It's Denham's third year at the camp, and he helps organize activities. Today's afternoon game is "Water Daze," a mudslide extravaganza provided by the Ottawa Fire Department.
After "Water Daze," 65 mud-soaked campers go wash up for dinner.
A plate of spaghetti
"It's dinnertime," a counselor yells.
Before eating, campers compete in a trivia game. A counselor shouts out the name of two tables and asks them a question about the Book of Joshua.
"How many spies did Joshua send to Jericho?"
The table that provides the answer first gets to grab a plate. The campers know the routine; most have studied, and the answers are ready to leap off their tongues. After every table answers at least one question correctly, campers pile heaps of spaghetti, salad and chocolate cupcakes onto their plates. As they shuffle back to their seats, chairs squeak. Laughter spills over tables and ricochets off the walls. Silverware scrapes against glass. Plates clink and clatter.
After a while, the noise dies down. Campers clean their plates and clear the dining hall to change for chapel.
Girls have to wear knee-length dresses to each evening service. Boys must put on long pants and collared shirts. And all campers are required to attend. But they don't mind. They like the services.
"I love to go to church because I like to learn about God, and I love to sing," Taylor says.
Appropriately enough, one of her favorite songs to sing is "Amazing Grace."
Copyright 2018 The Lawrence Journal-World. All rights reserved. This material may not be published, broadcast, rewritten or redistributed. We strive to uphold our values for every story published.