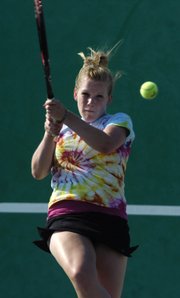 As the Lawrence Tennis Association junior league closed out play Thursday afternoon, league coordinator Kirsty Elliott couldn't help but be proud of her players.
In its first year as an entirely local organization, the league included four teams in the 14-and-under division and three teams in the 18-and-under division. Each team consists of six players who compete in boys and girls singles and doubles and mixed doubles.
This year, the Smashers, consisting of Nick Hay, Alex Green, Michael Omon, Kelsey Harwood, Haley Ryan, and Michala Ruder, won the 14-and-under division. Diego Gonzalez, Randy Walter, Jack Hearnen, Ashley Stagg, Guin Toalson, and Lauren Thames won the 18-and-under division for the Hoppers.
"I think one of the most exciting parts has been the mixed doubles," Elliott said. "They've never really had that experience before."
"I like seeing how the guys play," added Liz Walters, a junior-to-be at Free State High School. "I'm so used to playing girls so it's fun."
Elliott said the biggest improvement she'd seen out on the courts was in the kids' confidence level.
"Playing matches is so important in tennis," Elliott said. "It's about comfort. You can have the best strokes in the whole wide world, but then you go out on the tennis courts and perform under pressure. These kids are getting more comfortable with each other, and their strokes have gotten better and better."
"I feel like I'm not as awkward," said Jenny Loewen, an incoming junior at Free State. "I've learned to be more aggressive and I'm more comfortable at the net and with my doubles partner."
With doubles acting as a major part of league play, Elliott said, she also tried to stress the importance of communication to her players.
"They can't just stand there as quiet little mice," she said. "They've got to talk to each other and then they'll feel better and be able to play their tennis."
One of the proudest moments for Elliott this season came during a doubles match between Loewen and Brianna Krysztof and Guin Toalson and Ashley Stagg.
"Brianna and Jenny didn't want to get in the way of each other's playing so they would just stand at the net and let ground strokes go by," Elliott said.
"We were losing 6-2," Loewen said. "But then we decided to be more aggressive. We kept encouraging ourselves and we came back and ended up winning 9-7."
Overall, the players say the league has been a great experience both on and off the court.
"It's nice to have something going on in the summer," Walters said. "I like getting to play different people who aren't on your school team."
Elliott hopes to continue the league's success next year.
"This league is necessary to the development of tennis," she said. "I really hope to get more teams out."
The league will head to the Heart of America district tournament on July 26.
Copyright 2018 The Lawrence Journal-World. All rights reserved. This material may not be published, broadcast, rewritten or redistributed. We strive to uphold our values for every story published.