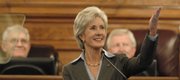 Kathleen Sebelius is the nominee for Secretary of Health and Human Services in Obama's Cabinet. She has served as Kansas' governor since 2002 and before that was insurance commissioner and a state representative.
Topeka — Gov. Kathleen Sebelius and another Democratic leader are trying to unseat a legislator from their own party for voting against the governor and endorsing Republican Phill Kline in the 2006 attorney general's race.
Sebelius and Senate Minority Leader Anthony Hensley, of Topeka, sent a letter earlier this month that endorsed Kelly Kultala in the 5th District and asked for a $1,000 contribution for her. The letter was sent statewide July 3 to unions, political action committees and lobbyists.
Kultala is running against Sen. Mark Gilstrap, a three-term incumbent, in the Aug. 5 primary.
Kultala, a former Unified Government of Wyandotte County and Kansas City, Kan., commissioner, is campaigning with the slogan: "A real voice, a real leader, a real Democrat."
'In name only'
In six years as governor, Sebelius has supported only two candidates in contested primaries: a House member who lost and a county clerk candidate who won.
Neither Hensley nor Sebelius have gone against a Democratic legislator before.
"I would say Mark is a Democrat in name only," Hensley said Friday. "He increasingly has voted with the more conservative Republicans. If he wants to be a Republican, he should change parties. He hasn't supported defining issues where Democrats need to be Democrats."
Gilstrap, who like Kultala is from Kansas City, said he doesn't know the reason for the letter.
"It caught me off guard. When the governor in your own party doesn't want you to be in her clubhouse, it may bother you a little bit," he said. "I can't think of one issue that would have put me over the top to upset them."
In a June 12 e-mail to Gilstrap, Hensley cited several reasons, including Gilstrap's support of Kline's failed re-election bid two years ago. Kline is a conservative abortion opponent.
"He committed the cardinal sin of being a Democrat who endorsed one of the most extreme Republicans around," Hensley said. "This is about supporting a right-wing agenda."
District representation
Gilstrap said he goes against the party to vote the wishes of his district, where 37 percent of registered voters are Democratic, 33 percent are Republican and 30 percent are independent.
"I have to represent everybody. If I decided to represent only the Democrats, then two-thirds of the district wouldn't care much for me," Gilstrap said.
Hensley said Gilstrap never voted to uphold a Sebelius veto, including two on legislation this year allowing two coal-fired power plants in southwestern Kansas. Also, Hensley said, Gilstrap opposed the governor on other issues.
"The priorities that the governor and many Kansans hold about the importance of health care access and school funding, as well as opposing two new coal plants, were not shared by Senator Gilstrap. Governor Sebelius is supporting Kelly Kultala, who she believes will better represent Kansans," Sebelius spokeswoman Nicole Corcoran said.
Party rift
Republicans say the rift will lead to the election in November of GOP candidate Steve Fitzgerald, of Leavenworth.
Gilstrap defeated him in 2004 by 814 votes out of 25,700 cast in the district that includes parts of Wyandotte and Leavenworth counties.
"It's nice to see Democrats eating each other alive in the 5th District," said GOP Executive Director Christian Morgan.
Hensley said the rift does not indicate wider problems within the party.
Morgan said Sebelius and Hensley, who generally support abortion rights, turned against Gilstrap because of his opposition to abortion.
"I think they have grown sick of Gilstrap's support for life, and it's obvious they can't handle it anymore," Morgan said.
Hensley said it isn't about abortion.
"It's the other issues where he has abandoned the Democratic Party. We supported him in 2000 and 2004, and if abortion was the reason, we wouldn't have supported him then," Hensley said.
Gilstrap suggested the opposition arose after he told Hensley he couldn't support him for minority leader unless he got more Democrats elected this year. Democrats hold 10 of the 40 Senate seats.
"I didn't say I would challenge him, but I would consider it," Gilstrap said.
That's not the issue, Hensley said.
"It has nothing to do with leadership," he said. "It has everything to do with Mark abandoning the caucus."
Copyright 2018 The Associated Press. All rights reserved. This material may not be published, broadcast, rewritten or redistributed. We strive to uphold our values for every story published.