On the street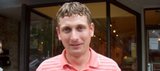 Never really thought about it. I've never been too worried about self-defense.
Local statistics
According to the Kansas Bureau of Investigation, 2,579 crimes have been reported in Douglas County through July 4. Here's a breakdown of some of the numbers:
¢ Rape - 28.
¢ Robbery - 46.
¢ Aggravated assault/battery - 184.
¢ Burglary -340.
¢ Theft - 1,860.
¢ Motor vehicle theft - 106.
¢ Arson - 15.
Hammer strikes. Front kicks. Head butts.
Don and Susan Booth practice these intense techniques on each other, but they also teach them to others during weekly self-defense classes. And, the couple said, they've been teaching them to a growing number of people recently.
The Booths said more adults were attending classes at their Premier Martial Arts school, 3201 Clinton Parkway Court, after hearing about crime in the community.
"All the attacks and the beatings, the shootings, robberies; it's pretty scary out there," Don Booth said. "You just have to be aware of your surroundings, and I think that's one of the reasons our business has picked up."
After four murders and a string of at least six liquor store robberies in the city this year, it may seem crime in Lawrence has gone up. But police say that's not the case, at least in the first quarter of the year.
While crime in the nation has started to spike slightly for the first time in 15 years, in large part because of a sluggish economy, crime in Lawrence went down during the first three months of the year by more than 300 crimes compared with last year, Lawrence Police Capt. Dan Ward said.
Ward, who oversees the police department's investigations division, said it was a good signal that crime in Lawrence wasn't reflecting national statistics, but it's also no reason to let up your guard.
"Anytime, I would tell people they need to be practicing good safety practices, locking their doors, paying attention to what's going on," Ward said.
And for some, that means taking self-defense classes. The Booths said they taught about 200 people techniques during 30 classes at the mixed martial arts school every week.
The couple will be host to a free self-defense workshop at 11 a.m. Aug. 16 at the school.
Copyright 2018 The Lawrence Journal-World. All rights reserved. This material may not be published, broadcast, rewritten or redistributed. We strive to uphold our values for every story published.