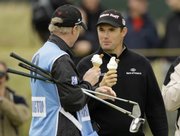 Southport, England — Nearly any other week, Padraig Harrington would already be home.
Instead, he was strolling around blustery Royal Birkdale, still trying to cope with the pain in his right wrist, still trying to work out how he can possibly defend his British Open championship.
Harrington cut short another practice round Wednesday on the eve of the tournament, managing only three full swings before his wrist started throbbing again. He walked the rest of the course, limiting himself to chipping and putting, the only things he felt comfortable enough to risk.
So, will he play?
"I can't say honestly at this moment," Harrington said as he strolled down the middle of the 18th fairway, midway through a practice round that was little more than a pleasant walk.
Later, after coming off the ninth green, he was a bit more specific about his prospects. Harrington said it was 75 percent likely he would at least tee off, but put his chances of making it through the first round at only 50 percent.
The Irishman sprained his wrist last weekend while hitting into an impact bag, golf's version of the punching bag. He took a couple of days off, then hit the course Tuesday. He managed to get in nine holes before his wrist started feeling "tingly," forcing him to cut out any full swings on the back side.
Harrington returned early Wednesday, headed to the practice range and didn't have any problems.
"I thought it was fine," he said. "I was hitting all sorts of shots and felt quite confident. I was hitting drivers with no problem. I was hitting divots with no problem."
Copyright 2018 The Lawrence Journal-World. All rights reserved. This material may not be published, broadcast, rewritten or redistributed. We strive to uphold our values for every story published.