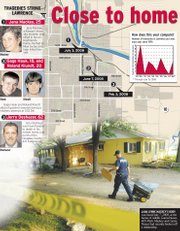 Other recent deaths
May 4 - Thomas Crum, 60, was struck and killed by a hit-and-run driver near Sixth Street and Gateway Drive.
June 28 - David Dillon, 44, was struck and killed while riding his bike west of Eudora.
July 5 - Edward McGowan, 29, was struck and killed by a train in North Lawrence.
July 12 - Melvin Elliott Jr., 66, was struck and killed by a bus on Sixth Street.
In the first 15 days of this month, a motorcyclist was killed in a crash with a semitrailer; a scooter driver was killed in a crash with a city bus; a man was struck and killed by a train; and a Kansas University student was killed in her ex-boyfriend's home. The deaths all happened in Lawrence.
June was just as deadly across the county. An off-duty sheriff's deputy was struck and killed on his bicycle west of Eudora; a motorcyclist was killed in a crash near Lone Star Lake; and two men were killed during a robbery attempt in Lawrence.
"It's really been a tragic series of events," said Lawrence Mayor Mike Dever. "There's just a lot of stuff happening all at one time, and it's kind of disheartening."
"You're seeing one of those times that happen to be busy," said Lawrence Police Capt. Dan Ward, who leads the police department's investigations division.
No data or information indicates a pattern in all of the recent tragedy. "This is nothing to be alarmed at," Ward said.
Homicide rate up
While the causes of the recent deaths vary, the number of homicides is higher at this point in the year than the city has typically seen.
Lawrence police have investigated four homicides already this year.
Police records indicate the city hasn't seen that many homicides in the first seven months of any year since 2000, when nine people were killed from January through July. The last time the city has seen more than four homicides in an entire year was in 2005, with five killings reported. No homicides were reported in the city last year.
Ward remembers 1996, when three homicides occurred within 15 days.
"Obviously, when you have them close together, back-to-back like that, it does take a toll," he said. "It definitely tires you out."
During death investigations, Ward said detectives are committed to working intensely on the case during the first 24 to 36 hours.
"That takes a real big toll on an individual operating at that high a level," he said. "You end up putting off your family, you end up putting off your obligations, and so then catching up is difficult."
Ward said he and other emergency responders become accustomed to being around death, but it's something the department's chaplain says is easy for the community to take for granted.
"They're able to navigate their way through a lot of the losses that would normally set the public back," said Paul Taylor, a chaplain who volunteers for Lawrence-Douglas County Fire & Medical, the county's emergency communications center, Lawrence Police Department and Douglas County Sheriff's Office. "They're able to move from one crisis to the next crisis and do it in a very professional manner."
Community impact
Taylor, who helped with several of the recent notable cases, said the deaths are having an impact on the community.
"People are concerned," said Taylor, who is also associate pastor at Mustard Seed Church, 700 Wakarusa Drive.
But, Taylor said, it's natural and also part of being a community. He's hopeful something good can be brought out of the tragedy.
"If it's from an accident, we can maybe learn from somebody's tragedy, and if somebody didn't wear a helmet, maybe we can start wearing a helmet," Taylor said. "Maybe somebody would be prompted to set something in motion that would help prevent future trauma and accidents."
As the community reflects on this summer, Dever said people need to slow down and be careful.
"It's disheartening, it really is," he said. "Just be cognizant of what's going on around you."
Copyright 2018 The Lawrence Journal-World. All rights reserved. This material may not be published, broadcast, rewritten or redistributed. We strive to uphold our values for every story published.