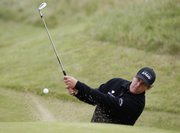 Southport, England — Phil Mickelson wouldn't bite, no matter how many ways he was asked about Tiger Woods.
So, Lefty, are the majors diminished because a certain No. 1 player - perhaps the greatest ever to swing a golf club - isn't at the British Open?
"I am working hard to get my game ready for this week, and I've practiced hard. I've developed a good game plan for this event, and I am excited to compete against whoever is in the field," Mickelson said.
Can't you say anything about Tiger's absence?
"Oh, I'm sure I could," Mickelson said, tantalizing his audience. "But right now my focus is, again, this week, as I've got to get my game sharp."
Finally, when the call went out for final questions, someone asked Mickelson if he got any sense that other players - not someone as accomplished and experienced as himself, mind you - might feel like they have more of a chance with Woods sitting out the rest of the year recovering from knee surgery.
His response? "I haven't had a sense either way, no."
During a 12-minute interview session, Mickelson steadfastly refused to even say Woods' name Tuesday. It seemed a calculated move, as all things are with Lefty, because he was asked several different ways about the only player ahead of him in the world rankings.
Even from his couch, Tiger has that sort of effect on people, especially the guy who's been chasing him most of his career.
Copyright 2018 The Lawrence Journal-World. All rights reserved. This material may not be published, broadcast, rewritten or redistributed. We strive to uphold our values for every story published.