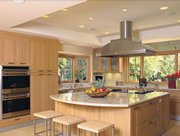 Remodeling a kitchen can be costly, and there's no guarantee that consumers will be completely satisfied with the end results, according to the editors of Consumer Reports. CR recently featured tips and common mistakes to avoid based on results from a survey of 8,000 readers who recently remodeled their kitchen.
Six ways to save
¢ Plan before paying. Part of the joy of planning a new kitchen is exploring the options. Keep a running file of appliance picks, paint chips, countertop samples and the like, and slowly piece together a dream kitchen. The most common regrets mentioned by readers who hired help stemmed from rushing into their remodel.
¢ Save green with green. Most CR readers chose eco-friendly products that save money, such as energy-efficient appliances, water-efficient appliances and fluorescent lights. All of those choices will cut utility and water bills for their lifetime. Common mistake: Falling for green claims. There are no federal regulations or definitions of green products.
¢ Run a background check. Finding a contractor who is competent and honest, and shares the homeowner's sensibilities, requires more than just asking friends and neighbors for recommendations. All in all, 41 percent of CR readers who hired a contractor reported some problem with their project, including shoddy installation, late starts, sloppy workers and poor coordination. Common mistake: Going with the lowest bid.
¢ Do the design. A homeowner who will be working within the room's existing dimensions has a great excuse for avoiding some expensive design fees. Nearly half of all readers who hired tradespeople handled the major design decisions themselves. Common mistake: Opting for extended warranties on appliances. CR found that paying extra for such warranties doesn't save money in the long run.
¢ Say no to pro appliances. As in years past, CR's tests have shown that faux-pro-style ranges perform well and have stainless-steel styling for much less than the $4,000-plus price tags of brands like Viking and Wolf.
¢ Build in a cushion. Even the best contractor can't see through walls or ensure that products arrive on time. One in five homeowners who worked with a contractor paid 10 percent more than estimated, and 36 percent of those projects took at least two weeks longer than anticipated. CR suggests setting aside 10 percent to 15 percent of the budget for the unexpected. Common mistake: Falling into the "while we're at it" trap. Some project add-ons are inevitable, but sticking to the original plan and products will keep the budget and schedule in check.
Copyright 2018 The Lawrence Journal-World. All rights reserved. This material may not be published, broadcast, rewritten or redistributed. We strive to uphold our values for every story published.