On the street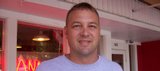 I like to vote on Election Day. I'm a hands-on type of guy. I like to go in, fill out the form, put it in the machine and know my vote got counted.
Douglas County's chief elections officer is optimistic that several contested races in the Aug. 5 primary election will boost voter turnout.
Advance voting begins today at the Douglas County Courthouse, 1100 Mass.
The county's turnout was 12 percent during the 2006 primary.
But a GOP showdown is in store between former Congressman Jim Ryun and State Treasurer Lynn Jenkins and two party primaries in each Douglas County Commission race might draw more people to the polls, said Douglas County Clerk Jamie Shew.
"I think there's some heightened interest in both local races and maybe some of the statewide races that may improve our turnout," he said.
In the County Commission's 2nd District, which includes the southeastern part of the county and southeastern Lawrence, the Democrats will chose between retired crop protection distributor Ken Adkinson of Eudora and Nancy Thellman, a Presbyterian minister and leader of Citizens for Responsible Planning, while Republicans have a choice of Grant Eichhorn, owner of Lawrence-based Rueschhoff Locksmiths and Security Systems, and David Brown, who recently retired from the Douglas County Sheriff's Office.
In the 3rd District, which is most of western Lawrence and the western portion of the county, the GOP primary is between John Tacha, former Lawrence school board president, and former Douglas County District Attorney Jim Flory. For the Democrats, Ken Grotewiel, a retired assistant director of the Kansas Water Office, faces Clenece Hills, a longtime Lawrence teacher who advocated for Sesquicentennial Point.
Also in the U.S. Senate race, Democrats Lee Jones and former congressman and lobbyist Jim Slattery are trying to make it to the primary to face Sen. Pat Roberts, who is seeking a third term.
Ryun and Jenkins are vying for the right to face Democratic U.S. Rep. Nancy Boyda of the state's 2nd Congressional District, which includes western Lawrence. Boyda defeated Ryun in 2006.
Republican voters in eastern Lawrence will choose between state Sen. Nick Jordan, of Shawnee, and Paul Showen, also from Shawnee and a retired elevator construction worker, for the right to challenge Rep. Dennis Moore, D-Lenexa, in November.
Advance voting for the primary can be done at the courthouse during regular business hours. Filling out a ballot by mail is also an option.
Shew's office is still determining the cost for another one of Shew's major goals for the November election: setting up several more satellite advance voting sites throughout the county to relieve pressure on what is expected to be a heavy turnout at polling sites in the Nov. 4 general election.
"The more that we're able to do that, the more that we're able to provide people the ability to avoid long lines on Election Day," Shew said.
The clerk's office is planning for an 80 percent turnout for the presidential election, which could stress some polling sites, particularly at schools.
The last day to register to vote in the primary election is Monday. The county clerk's office will stay open until 7 p.m. that day. Registration that is mailed needs to be postmarked by Monday to be eligible.
Republicans must be registered with the party to vote in the August primary. Unaffiliated voters can still vote in Democratic races without registering with the party.
Independent voters could also switch to Republican at the polls the day of the election to vote in GOP races, Shew said.
What's on the ballot for Aug. 5 Primary Election
Congress
¢ U.S. Senate: Jim Slattery and Lee Jones, Democrats.
¢ House District 2: Lynn Jenkins and Jim Ryun, Republicans.
¢ House District 3: Nick Jordan and Paul Showen, Republicans.
Kansas State Board of Education
¢ District 4: Alan Detrich and Robert Meissner, Republicans.
Douglas County Commission
¢ 2nd District: Ken Adkinson and Nancy Thellman, Democrats; Grant Eichhorn and David Brown, Republicans.
¢ 3rd District: Ken Grotewiel and Clenece Hills, Democrats; John Tacha and Jim Flory, Republicans.
Jefferson County
¢ 2nd District Commission: David Christy and Roy Dunnaway, Republicans.
¢ 3rd District Commission: Francis Grollmes, Ronald Herring and Fairley McCain, Democrats; LaVerne Clark and Richard Malm, Republicans.
¢ County Attorney: Mike Hayes and Caleb Stegall, Republicans.
Leavenworth County
¢ 3rd District Commission: John Flower, Francis Hurla, Tony Klamm, Bill Merkel, Beverly Oroke, Dave Taylor and Marvin Torneden, Republicans.
¢ County Attorney: Todd Thompson and Deb Snider, Republicans.
¢ State Representative, 42nd District: Ted Ingerson and Connie O'Brien, Republicans.
Copyright 2018 The Lawrence Journal-World. All rights reserved. This material may not be published, broadcast, rewritten or redistributed. We strive to uphold our values for every story published.