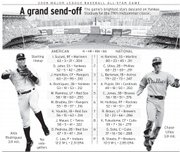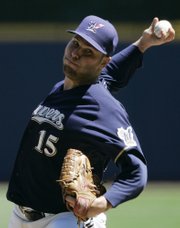 New York — Fired up about his first trip to Yankee Stadium, Ben Sheets had it all planned out. Arrive early and visit Monument Park, gaze up at that famous facade, drink in the entire experience the same way any fan would.
One big difference, though: The Milwaukee Brewers ace also will get the ball to start tonight's All-Star game for the National League.
"I'm not going to let a stadium intimidate me," Sheets said Monday in a hotel ballroom, hours before zipping uptown for batting practice and workouts. "At least while I'm sitting here I'm not."
Cleveland's Cliff Lee was picked by Boston manager Terry Francona to start for the AL, highlighting a remarkable resurgence for the left-hander after he was demoted to the minors last year.
Now, he's the best of the best as Major League Baseball salutes Yankee Stadium in its final season.
"I'm just honored to be here, to be honest with you. To get the start for me is icing on the cake," said Lee, 12-2 with a 2.31 ERA. "I'm kind of awe-struck by it."
NL manager Clint Hurdle of Colorado tabbed Sheets, who is 10-3 with a 2.85 ERA. Several other NL All-Stars pitched Sunday, making the well-rested Sheets a logical choice.
"Really looking forward to this opportunity to go out there, last All-Star game in Yankee Stadium history," Sheets said. "I know one thing, it's going to be glowing as I pull up.
"I'm going to definitely do a sightseeing tour today, and I'm going to enjoy every minute of it."
After getting to the ballpark, Sheets was struck by the cramped clubhouse and narrow walkways, outdated elements of a venue that opened in 1923.
"It just seems a little bit smaller than other stadiums I've been in," he said. "The other stadiums are new."
Both managers announced their lineups Monday in the same Manhattan banquet room where the Mitchell Report on drugs in baseball was released seven months before.
Seattle right fielder Ichiro Suzuki will bat leadoff for the AL, followed by Yankees shortstop Derek Jeter, Texas center fielder Josh Hamilton, New York third baseman Alex Rodriguez, Boston left fielder Manny Ramirez, Rangers designated hitter Milton Bradley, Red Sox first baseman Kevin Youkilis, Minnesota catcher Joe Mauer and Boston second baseman Dustin Pedroia.
Francona kept more than numbers in mind when putting together his batting order.
"For me, a Derek Jeter deserves to hit at the top of the order, in a place like this especially," he said.
The manager also acknowledged he thought about whether to honor Yankees closer Mariano Rivera with the start in his home ballpark - but only because Francona was asked about it by reporters.
"Mariano may be the greatest reliever of all-time, but he's not a starter," Francona said. "You're putting a guy possibly at risk doing something he's not done. We will treat every player in this game with a lot of respect, certainly knowing that there are Yankees involved in this game. But other than that, I think we are doing it correctly."
Copyright 2018 The Associated Press. All rights reserved. This material may not be published, broadcast, rewritten or redistributed. We strive to uphold our values for every story published.