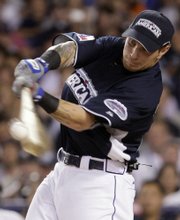 New York — Josh Hamilton was the most prolific slugger in the All-Star Home Run Derby.
But he didn't win it.
Swinging himself out in a prolific first round, the Texas Rangers' slugger bowed to Minnesota's Justin Morneau, five homers to three, in the finals Monday night at Yankee Stadium.
Hamilton finished with 35 home runs in the competition, compared with 22 by Morneau. But the players started over from scratch after the second round, and Hamilton had run out of gas by then.
Hamilton put on a remarkable power display in the first round, socking 28 home runs, smashing the record of 24 established by Bobby Abreu in 2005. Even the discerning and often cynical New York fans were oohing and aahing and applauding as Hamilton crushed pitch after pitch deep into the stands, coming close to hitting a couple completely out of the stadium.
Hamilton was so far ahead of the pack after that round that he took only a few swings in Round 2, hitting four more before cutting it short.
Milwaukee Brewers left fielder Ryan Braun made it into the second round, finishing among the top four of the eight contestants after Round 1. He bowed out in that round, however, with a total of 14 homers, seven in each round.
Braun said he spoke with Cincinnati's Ken Griffey Jr. on Sunday before the Brewers and Reds played at Miller Park to get some advice on competing in the Derby.
"He talked about taking a few pitches, keeping your emotions in check, keep your adrenaline in check," Braun said. "He said to try to conserve a little energy."
Braun put himself in a huge hole in the first round, making six "outs" before finally hitting one out. An out was anything that didn't go over the fence, and each contestant got 10 outs per round.
Braun poured it on after that six-out mulligan, hitting three homers before making his seventh out, then another homer, another out, then three in a row before his last two outs. The seven homers allowed him to slip into the final four, passing Florida's Dan Uggla and Cleveland's Grady Sizemore, with six apiece.
First-round totals were added to second-round totals to determine the two finalists. Houston's Lance Berkman (eight plus six) had 14 homers after Round 2, which Minnesota's Justin Morneau (eight plus nine) surpassed with 17.
Braun then finished with 14 homers, guaranteeing Morneau a spot in the finals against the mighty Hamilton.
In an interesting twist, Braun's pitcher was his agent, Nez Balelo, a former minor-league infielder. Balelo throws batting practice to Braun during off-season workouts in Los Angeles and Braun decided to bring him to the Derby.
Asked beforehand if he'd have more pressure than Braun, Balelo laughed and said, "We're just going to go out there and do what we always do. There's no pressure. We're just going to enjoy every moment of it. I'm just happy to be out there, especially on a historical day."
Some hitters, such as New York Yankees third baseman Alex Rodriguez this year, have declined invitations to the Derby out of fear that it will alter their swing for the remainder of the year. Braun said he had no such worries.
"For me personally, it's not a concern," Braun said. "I don't feel like I have to drastically change my swing for the Home Run Derby. I'm just excited about being out there and competing."
Braun had been hampered in recent weeks by a sore right hand but Balelo said that no longer was an issue. Balelo also said he wasn't worried about Braun's swing getting messed up by the competition.
"He's too good of a hitter, too disciplined," Balelo said. "He clearly understands his swing.
"He's not worried about it. I'm not worried about it. The club's not worried about it."
Copyright 2018 The Lawrence Journal-World. All rights reserved. This material may not be published, broadcast, rewritten or redistributed. We strive to uphold our values for every story published.