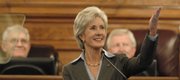 Kathleen Sebelius is the nominee for Secretary of Health and Human Services in Obama's Cabinet. She has served as Kansas' governor since 2002 and before that was insurance commissioner and a state representative.
Philadelphia — For more than three decades, the National Governors' Association has assembled on presidential election years as one of its members made a bid for the White House - a Carter or a Reagan, a Dukakis, a Clinton or a Bush.
Not this time.
With two senators as the presumed nominees of their respective parties, the governors have been consigned to the running-mate heap. There, along with others, they are being picked over for a job described by Depression-era Vice President John Nance Garner as "not worth a bucket of warm spit" - yet one that's a heartbeat away from the presidency.
So no wonder that the governors and former governors who gathered this weekend for the NGA's centennial congregation eyed each other for telltale hints. Would this be a showcase for Minnesota Gov. Tim Pawlenty, the outgoing NGA chairman who is often mentioned as a possible pick for Republican John McCain? How about Pennsylvania Democrat Ed Rendell, the host of the confab and its incoming chairman?
Former Iowa Gov. Tom Vilsack, himself a finalist in Democrat John Kerry's vice presidential sweepstakes in 2004, studied both of their welcoming speeches. And when moderator and presidential historian Richard Norton Smith playfully asked which governor might have an interest in the vice presidency, Vilsack turned to Kansas Gov. Kathleen Sebelius, a Democrat said to have caught the eye of Barack Obama's campaign.
"Kathleen, do you want to answer that question?" he needled her.
No one tipped a hand, if there was a hand to show.
Pawlenty turned aside reporters' questions about his political future. Rendell insisted he had no interest in the vice presidency. Utah's Republican Gov. Jon Huntsman and Arizona's Democratic Gov. Janet Napolitano said neither campaign had approached them.
Sebelius made herself scarce. Louisiana Gov. Bobby Jindal, a Republican whom McCain often praises, was at work in Baton Rouge. Former Massachusetts Gov. Mitt Romney, who's been helping former rival McCain lately, didn't show. Florida Gov. Charlie Crist, also seen as a potential McCain running mate, left Saturday on a 10-day trade mission to Europe. And Virginia's Democratic Gov. Tim Kaine, mentioned as a top prospect for Obama, coyly divulged that "I never talk about my conversations with the campaign."
Kaine did allow that he and Obama formed an early bond upon realizing that both their mothers were from El Dorado, Kan., a town of less than 13,000 people 30 miles east of Wichita.
Others weren't so reticent.
"The running mates of both of them are going to be governors," predicted Sen. George Voinovich, an Ohio Republican who was the state's governor in the 1990s. "First of all, with all due respect, none of them (Obama or McCain) have any management experience."
Indeed, governors as political executives have more in common with presidents than senators do. As Smith, the historian, told them, "What sets you apart from legislators is that you are constantly making decisions."
Copyright 2018 The Associated Press. All rights reserved. This material may not be published, broadcast, rewritten or redistributed. We strive to uphold our values for every story published.