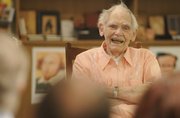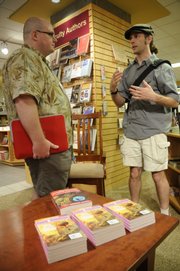 When a group of science fiction writers, teachers and critics gets together, there's no telling what may be discussed.
On Saturday at Kansas University, themes about the apocalypse, nanotechnology and war intertwined with literary features such as character development and plot twists, all creating endless story possibilities.
Typically, all subsets of the sci-fi group aren't together at the same time, but because of unavoidable circumstances this year, the annual Campbell Conference hosted by the KU Center for the Study of Science Fiction was coupled with the Science Fiction Research Association's annual conference.
For the people who are constantly dealing with themes of change in the genre of science fiction, the opportunity was embraced.
"You don't usually get these types of groups working together in the same general avenue," said James Gunn, director of the center, professor emeritus in the English department and science fiction author.
Gunn said in most academic fields, the creators are usually well separated from their critics and are friendly antagonists at best.
However, this week's conference showed a different scenario, he said.
"The writers really feel themselves part of the fan group as well as being the people creating it," he said, "so there is this interaction between writers and teachers and critics at this meeting, which is special, I think."
At its core, the human and scientific exploration found in the genre - an exploration that delves into the way humans live their lives and the opportunities for change - seem to spark fans whether they are writers, readers or professors.
For Gunn, the love of science fiction comes from the idea of change. He calls it "literature of change." As his signature on his e-mail, he suggests, "we should save the world through science fiction."
"I really find this kind of fiction both exciting and liberating and fascinating in its ideas and kind of literary structures" that help present the possibilities that are there for the human species to deal with, Gunn said.
"We have the potential at least to help people create a better world and maybe save a world that is, I think, always in danger of being damaged if not destroyed by things like war, pollution, overpopulation, overheating," he said. "All these things that potentially could destroy us if we don't think about them, if we don't think about our behavior, if we continue to go along acting as though we've always behaved."
The John W. Campbell and Theodore Sturgeon awards were presented Friday. The Campbell Award is one of the three major annual awards for science fiction. The Sturgeon Award was established in 1987 by Gunn to recognize short fiction.
For the first time, two authors were recognized for the Sturgeon Award. Author David Moles received a Sturgeon Award, his first award, for his short story "Finisterra," and Elizabeth Bear was honored for "Tidelines."
"It's really humbling actually," Moles said. "Looking at the list of the other stories that have won this award over the years, they're all real classics, so it's pretty amazing to be added to the list."
Moles said he enjoyed meeting students in the writing workshops who are beginning writers and "very enthusiastic." He also enjoyed meeting authors such as Frederik Pohl, "one of the last remaining giants of the genre," he said.
As for the scholars and academic side of the conference, he said, "it's just kind of neat to see that there are that many people that are taking science fiction seriously."
"I try not to take it too seriously myself," he said, "but you know, sometimes it's nice to know that people do."
Copyright 2018 The Lawrence Journal-World. All rights reserved. This material may not be published, broadcast, rewritten or redistributed. We strive to uphold our values for every story published.