Photo Gallery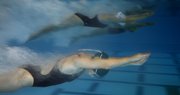 Wave the Wheat swim meet, day 3
Brittany Potter tried soccer, softball and dance, then finally settled on swimming. So did her twin sister, Alyssa.
The twins have been competing against each other in the pool since they were 8 years old and continue to swim together as upcoming sophomores at Kansas University. They even share an event: the 200-meter butterfly.
For most, competing in the same sport, much less the same event, would bring natural sibling rivalry to a vicious bloodbath. But for the Potter twins, the competition is friendly.
"I think we used to be much more competitive when we were younger," Brittany said. "We'd get mad when the other one would beat the other, but now I think that we've learned that it's a good thing to have someone as fast, if not faster, than you to help push you. I still think we're competitive, but we're competitive in a good way."
When they weren't pushing each other to faster times, the sisters even found time for bonding.
"I definitely think it's made us closer," Alyssa said. "With my dad's job, we'd move around a lot. Swim team is one way you can find friends, but we'd always have each other."
As the twins graduated from Bentonville High School in Bentonville, Ark., that closeness translated into a collective decision to swim for KU.
"We pretty much had it down to where one of us was going [to college], the other was going too," Alyssa said. "We knew we didn't want to separate.
Brittany said KU was an easy choice because of the attitude of coach Clark Campbell and the friendliness of other girls on the team.
The Potters had a stellar freshman season for the Jayhawks. Both placed in the top 16 in the 200 butterfly at the Big 12 meet.
"They improved so much and being here over the summer and getting that extra work will really help," Campbell said. "We've just got to come up with a third event that they can really be competitive in."
For Alyssa, that third event may be the 1,500 freestyle in which she took first place for the Aquahawks on Thursday at this weekend's Wave the Wheat meet. On Friday, Alyssa also swam in the 100 breaststroke and Brittany raced in the 100 backstroke. Both sisters competed in the 50 free.
The twins weren't the only Potters to swim this weekend.
Younger brother, Justin, traveled to Lawrence as the only representative of North West Arkansas Aquatics. On Saturday, Justin dropped five seconds off his time in the 200 freestyle, earning a ninth-place finish at 2.17.31 and took fifth place in the 100 butterfly at 1.10.56.
"My brother got into swimming because he just always had to tag along to swim meets," Alyssa said. "I think he was a handful and my mom just wanted to get him in there, too."
Justin said his sisters' passion for swimming motivated him to get involved and now that he's getting a little older, he relishes the opportunity to beat them.
"I finally beat them in the 50 [free]," he said. "It's pretty cool. We're not really that competitive, though. They're my sisters. I try to beat them, but if I don't, I don't get upset."
Justin's involvement in swimming has made the sport a true family affair for the Potters.
"We all go to meets together," Alyssa said. "My parents are very supportive - wherever we had to travel. It's a lot of meets, but my parents have always supported that."
The Potter family will travel together again on July 16 when the twins compete in sectionals in Oklahoma City.
"We're in a bunch of the same events," Brittany said. "Surprise."
Copyright 2018 The Lawrence Journal-World. All rights reserved. This material may not be published, broadcast, rewritten or redistributed. We strive to uphold our values for every story published.