On the street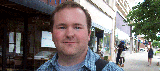 Yes, I just flew in from California to teach a summer class here at KU.
Wearing a paint-splattered T-shirt, arms folded, ears perked, Ted Cowan sits on a blue plastic chair in the waiting room of ZLB Plasma. He's waiting for a nurse to belt out his name.
Cowan is a painter who pulls in a regular paycheck - but it's not enough.
Bloated fuel prices. Food inflation. Stagnant wages.
All these things yank Cowan back to the center, at 816 W. 24th St., every week. He's donates plasma - ZLB calls it a donation though donors are financially compensated - twice a week, every week, and has for a year.
"I'm a nice guy and all, but I don't do it to give away plasma," he says. "I do it for the money."
Plasma is one of the ways Lawrence residents are fighting the impending economic recession. They're also selling off their household wares, looking for extra cash to save their quality of life while costs increase.
Plasma boom
The plasma industry experienced an increase of more than 10 million donations in 2005 and 15 million in 2007, according to statistics provided by ZLB.
And while much of the increase comes from previous donors giving more often, a healthy chunk of it is from new donors.
From 2 p.m. to 3 p.m. on Tuesday, three new donors stopped by ZLB.
One of them, 23-year-old Erin Wilson, says she's doing it just to scrape by.
"It sounds terrible, but I'm doing it for the money," Wilson says. "I'm having a tough time making ends meet right now, and this is a quick way to earn some cash."
First-time donors earn $45, then $40 for the second donation. After that, payment varies depending on how many times you go - but you can earn up to $300 a month.
Supply and demand
Though many donors claim the money is the main incentive, Christine Kuhinka, manager of Pennsylvania-based ZLB corporate communications, says the increase is independent of gas and food prices.
"We attribute the increase in plasma donations to an increase of demand in products," Kuhinka says. "The majority of our donors are repeat donors. They make a long-term commitment to donating plasma independently of the economy."
But at least one repeat donor comes back because of the easy cash. Jonathan Vaughn started donating at ZLB twice a week after a roommate introduced him to the spot in 2005. For Vaughn, selling plasma provides something other jobs don't: He can skim through textbooks or scrawl out term papers while getting paid. And he applies the money to normal income expenses, including books, food and gas.
"I've been donating practically nonstop since my freshman year in 2005," Vaughn says. "I normally donate about twice a week, every week, which is the most that they let you do it."
The process
Donors can come in twice a week because of plasma apheresis - a process that extracts and collects plasma, while returning blood back to the body.
"Whole blood cells are returned to you," Kuhinka says. "It's just the liquid portion or the plasma that is removed, so it's not as compromising on the body as it would be if you were donating whole blood or your red blood cells."
Still, many people aren't allowed to donate because of health concerns. A string of illnesses can exclude some donors, including seizures, heart conditions and iron deficiencies.
Prospective donors have to fill out a medical questionnaire, submit to a brief physical and have protein and iron levels checked. If a pre-existing condition can put the donor in a precarious health situation, they aren't allowed to donate.
Other options
And there are other exclusions. Vaughn doesn't donate now because he recently got a piercing. In case he contracted a communicable disease from an unclean needle, he has to take a year off.
So Vaughn is searching for other ways to earn extra money. He's applied at Quintiles and hopes to get into a clinical trial.
Quintiles is a healthcare company in Overland Park that tests out pharmaceutical medications on willing participants.
It will be Vaughn's third attempt at squeezing into a clinical trial - the company denied him the first two times because of his level of an obscure liver enzyme.
Clinical trials last anywhere from a few nights to more than three weeks, and volunteers can earn up to $3,300.
"I first heard about Quintiles from the same roommate, who was as excited to get money for no work as I am," Vaughn says. "All you have to do is sit around, sleep, eat and read to earn (the money). Oh, and they pay for all your meals when you are in an in-house study. If that's not an amazing deal, I don't know what is."
Quintiles might seem extreme for some, no matter how financially strapped. And so others find simpler ways to pull in money.
Selling stuff
Lugging a hefty box of books into Hastings Books Music & Video, 1900 W. 23rd St., to do a buy-back, Michael Keller clomped up to the register and heaved the box onto the counter. The checker sifted through the contents, and asked Keller if he wanted $82.80 store credit or $41.70 cash.
Keller, a recent college graduate, didn't hesitate.
"I took the cash," Keller says. "I figured I'd probably never read any of those again, and well, if I want to I can always buy them again."
Likewise, Doug Wahl, owner of Lawrence Pawn and Jewelry, 944 E. 23rd St., says more and more people are popping into the store wanting loans.
"We've actually seen quite an increase in people getting loans just to get gas," Wahl says. "We have people who bring in the same thing time and time again, just because they know how much they can get out of it and they need a little extra cash."
Back at ZLB Plasma, Cowen is sitting in that blue plastic chair. His ears now are relaxed, having heard a nurse belting out his name, and he knows how much money he'll receive once he shuffles out the front door.
"You can leave here, jump for joy, and say 'Hey man, I made some good money today,'" Cowen says.
Copyright 2018 The Lawrence Journal-World. All rights reserved. This material may not be published, broadcast, rewritten or redistributed. We strive to uphold our values for every story published.