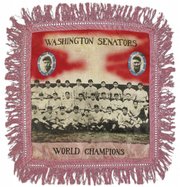 Current prices
Current prices are recorded from antiques shows, flea markets, sales and auctions throughout the United States. Prices vary in different locations because of local economic conditions.
¢ The Game of Jaws, 1975, Ideal Toy Corp., sealed, 7 x 15 inches, $80.
¢ Lifesize Beatles poster, John, Paul, Ringo and George standing, 1960s, 55 x 39 inches, $75.
¢ Mattel talking Dr. Dolittle, pull string, says different movie phrases in Rex Harrison's voice, 1967, 23 inches, $105.
¢ Effanbee porcelain figurine of Jackie Gleason as Ralph Cramden in bus driver uniform, from "Honeymooners" TV show, 1986, 16 inches, $130.
¢ 1940 General Electric Bakelite radio, maroon and pale gray with brown knobs and butterscotch handles, 9 x 7 1/2 inches, $245.
¢ Steuben pitcher, Rosaline with alabaster handle, diamond point pattern, 6 1/2 inches, $360.
How old is Grandpa's unusual silk "pillowcase" decorated with a picture of a baseball team? Because the records of baseball teams and players are so well documented, it's easy to learn what the logical age of an item should be.
But remember, today many items are being copied and sold to those who want to remember the "good old days." And sometimes the new pieces find their way to a garage sale or flea market and get sold as old. But fabrics featuring sports are rarely reproduced.
And fabrics, especially silk, age noticeably, so a pristine, colorful item would be very rare. A pillowcase auctioned by Sotheby's last year is a 22-inch square picturing the Washington Senators 1924 World Championship team at Griffith Stadium. Team members include several Hall of Famers, pitcher and Kansas native Walter Johnson and batboy Calvin Griffith, who eventually became the owner of the team.
Because it belonged to Johnson's grandson, it had been carefully preserved and was in excellent condition. The fabric rarity sold for $3,600. Most large fabric novelties are framed and hung. Be sure if you want to do this you keep the piece out of direct sunlight and in a cool room, not an attic or a wet basement. Even framed, it can fade or become moldy.
Q: I can't tell you much about my radio box, other than that I received it from my grandparents when they passed away. It looks like a box on turned legs. The front is grained wood, and the center of the front has a cloth grill for the speaker. It has three knobs to adjust the station and sound and a small rectangular dial indicating the station. The case is in excellent condition, but the radio doesn't work. The label on the back says "Bremer-Tully radio, made in U.S.A." It has a list of patents; the newest number is 4,729,914.
A: Your radio, priced originally at $89.50, is shown in the 1929 catalog for the Bremer-Tully Manufacturing Co. It was designed in a revival style with some William and Mary and some Sheraton influence, so it would be an attractive piece of furniture for the living room. The value for your radio is $50 or less because the radio doesn't work and the case cannot be easily converted into a storage cabinet.
Q: I am the proud original owner of a child-size Howdy Doody musical rocker autographed by Buffalo Bob Smith himself. The music box is in the chair's left runner and still works. There's a colorful decal of Howdy on the front of the chair. What do you think the chair is worth?
A: The Howdy Doody Show was a hugely popular children's TV show that ran from 1947 to 1960. Howdy was the leading character, a marionette cowboy, whose human buddy, Buffalo Bob, hosted the show. We have seen Howdy Doody rockers like yours sell for $50 to $100 without Buffalo Bob's autograph and with or without the music box. Did you or your parents see Buffalo Bob sign the chair? Are you sure it is a real signature, not a facsimile? If the decal is mint and the autograph genuine, the value of your chair could go up to $500 or more.
Q: I recently dug up an old glass jar and hope you can help me identify it. It's clear glass, 2 1/2 inches tall, with a metal lid and rubber stopper. The bottom of the jar is marked "J.E. Lee Co., Patd. July 3rd, 1906, Conshohoc, Pa." What was this bottle used for?
A: Your jar is a "suture vial" that probably dates from the early 1900s. The spools held suturing lines, which could have been silk, catgut, horsehair or some other material. The sutures were packaged in silk cases, "germ-proof envelopes" or glass jars called "tubes." The J. Elwood Lee Co. of Conshohocken, Pa., near Philadelphia, was a suture manufacturer that competed with Johnson & Johnson.
founded in 1886 in New Brunswick, N.J. In 1905, Johnson & Johnson bought the J.E. Lee Co. and combined operations.
Q: I thought all Delft came from Holland, but you have written about English delft. What is that?
A: Delft is tin-glazed earthenware that has been made in several places in Europe since the 17th century. The pottery was covered with a white glaze, then decorated with blue and sometimes added colors. It chips very easily. English delft was made in the 18th century and is rare and expensive today. Dutch Delft is still being made in Holland by a few potteries. But most of the pieces you see today marked "delft" are made in Germany, China or other Asian countries to be sold in gift shops. Even in Holland, you find porcelain, usually blue and white, marked "Delft" that was made in other countries.
Copyright 2018 The Lawrence Journal-World. All rights reserved. This material may not be published, broadcast, rewritten or redistributed. We strive to uphold our values for every story published.