On the street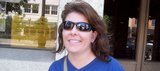 I live in southwest Kansas, and we don't get service out there. So no, I don't want one, but I would if I could use it.
New York — The launch of Apple Inc.'s much-anticipated new iPhone turned into an information- technology meltdown on Friday, as customers were unable to get their phones working.
"It's such grief and aggravation," said Frederick Smalls, an insurance broker in Whitman, Mass., after spending two hours on the phone with Apple and AT&T; Inc., trying to get his new iPhone to work.
In stores, people waited at counters to get the phones activated, as lines built behind them. Many of the customers had already camped out for several hours in line to become among the first with the new phone, which updates the one launched a year ago by speeding up Internet access and adding a navigation chip.
A spokesman for AT&T;, the exclusive carrier for the iPhone in the U.S., said there was a global problem with Apple's iTunes servers that prevented the phones from being fully activated in-store, as had been planned.
Instead, employees are telling buyers to go home and perform the last step by connecting their phones to their own computers, spokesman Michael Coe said.
However, the iTunes servers were equally hard to reach from home, leaving the phones unusable except for emergency calls.
The problem extended to owners of the previous iPhone model. A software update released for that phone on Friday morning required the phone to be reactivated through iTunes.
"It's a mess," said freelance photographer Giovanni Cipriano, who updated his first-generation iPhone only to find it unusable.
Apple shares fell $4.05, or 2.3 percent, to close Friday at $172.58 amid a general decline in U.S. stocks.
When the first iPhone went on sale a year ago, customers performed the whole activation procedure at home, freeing store employees to focus on sales. But the new model is subsidized by carriers, and Apple and AT&T; therefore planned to activate all phones in-store to get customers on a contract.
The new phone went on sale in 21 countries on Friday, creating a global burden on the iTunes servers.
The iPhone has been widely lauded for its ease of use and rich features, but Apple is a newcomer to the cell-phone business, and it's made some missteps. When it launched the first phone in the U.S. a year ago, it initially priced the phones high, at $499 and $599, then cut the price by $200 just 10 weeks later, throwing early buyers for a loop.
Rollouts to other countries were slow, as Apple tried to get carriers on board with its unusual pricing scheme, which included monthly fees to Apple. The business model of the new phone follows industry norms, and the price is lower: $199 or $299 in the U.S.
On Thursday, Apple had problems with the launch of a new data service, MobileMe. The service is designed to synchronize a users personal data across devices, including the iPhone, but many users were denied access to their accounts.
Enthusiasm was high ahead of the Friday morning launch of the new phone.
Alex Cavallo, 24, was one of hundreds lined up at the Fifth Avenue store, just as he had a year ago for the original iPhone. He sold that one recently in anticipation of the new one. In the meantime, he has been using another phone, which felt "uncomfortable."
"The iPhone is just a superior user experience," he said. The phone also proved a decent investment for him: He bought the old model for $599 and sold it for $570.
Nick Epperson, a 24-year-old grad student, spent the night outside an AT&T; store in Atlanta, keeping his cheer up with bags of Doritos, three games of Scrabble and two packs of cigarettes. Asked why he was waiting in line, he responded simply "Chicks dig the iPhone."
Copyright 2018 The Associated Press. All rights reserved. This material may not be published, broadcast, rewritten or redistributed. We strive to uphold our values for every story published.