Photo Gallery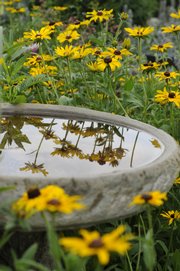 Pristine vista
Debby Hird is all smiles. And why not - life is good.
She wakes every morning to a dazzling vista that is certainly morphing and molding on any given day, quite possibly each day being more spectacular than the last.
Yes, the views that the Hirds are able to savor from their hilltop home south of Lawrence are phenomenal, and they definitely savor those views.
"Some people drive through the Flint Hills and say, 'What is this about?' But to me it's more beautiful than the mountains. It's spiritual," says Debby Hird. "We went to the Symphony in the Flint Hills, and I just cried the entire time. It is so gorgeous. I mean, look at this sky - we have wide open spaces."
The Hirds have an enormous covered patio that looks as if it is straight off of the back of a Tuscan winery. The posts that hold the rustic structure into the ground are additionally anchored by thick, winding stalks of bittersweet vine. The open lattice work above is long overgrown, and Mumbo the cat's tail is swishing as he partakes in a morning siesta among the bittersweet.
Under the living roof sits sturdy wooden furnishings and chipping antiques. All that is missing from this Tuscan inspired theme is a bottle of wine - but that, too, is in the works.
Debby describes their space as "a bohemian Napa Valley thing happening." From the large patio the view is that of a brilliant Kansas landscape painting. A stone wall lines the long pebbled drive as it rolls down the path and into the vast prairie below. On the crest of this hill, Pleasant Valley is ours to gaze upon, and it does indeed appear quite pleasant with forested swaths, prairie lands and agricultural acres. And to top it all off, a red barn and silo perfect this pristine vista.
But don't think for a minute that this awe-inspiring setting wasn't a labor of love mixed in with plenty of elbow grease. Nineteen years ago, when Debby and Rick acquired this land from Rick's father, it was literally an empty hilltop.
"I wanted the kids to be able to run around," Debby Hird recalls. "It was rough though the first couple of years - no trees and no grass. That was the most difficult part, choosing where to put stuff with so much space."
Rick's father originally used the acreage to land his para-planes, so it was unencumbered by trees or plantings. It was mostly a lot of overgrown weeds and leggy trees peppered in with some poison ivy and rattlesnakes.
"Oh yes," says Debby Hird. "We kept clearing back and clearing back because we had a big rattlesnake problem. The first year we eradicated like 30. Once we got rid of the bush piles they got away. Then I built this stone wall and Rick said, 'Well, now you are building a habitat for them.' So, when I harvest rocks, Rick worries and rightfully so. Sure enough, I found two copperheads, I was very quick to jump onto the hay wagon."
Although this empty apex with its stunning views might have been an overwhelming project for most people, Debby Hird thrives on rolling up her sleeves and taking on tasks she's never tried before.
"I grew up in Ellsworth, and we just always worked hard. Plus my best friend can do anything so there is a competitive spirit there," she says. "I built a thatched roof for the boys' playhouse years ago and I look back and think, 'What was I thinking?' But my family is hard-working and that is just what I've been taught. It is really a miracle I'm still here. I remember one time I thought I'd yank out an old clothes line. I hooked it up to the tractor and tried to pull it out. The tractor started to go back on its hind wheels. It was amazing I got out of it."
There is a lot of fun to be had at the Hirds' household with two fire pits for riveting conversations that last late into the night, or riding off road and forging trails on a four-wheeler. There is a large two-story treehouse that Rick and their boys constructed.
Debby laughs and says, "We've had two broken arms out of that tree house, it has a tricky trap door!"
But the latest passion for these soon-to-be empty-nesters is the 800 grape vines that are growing south of the home.
"It is such hard work," Debby muses. "I looked at Rick and thought, great idea! Here we are digging holes, wiring lines, sowing the plants, and on and on. Rick doesn't garden, but he does love this, so we love to do it together. We just planted them last year. We had this area and we wanted to plant something there. Our friends planted a vineyard, and we thought that is too cool. We are now in season two; it is season three when you can start making wines.
"Some day we hope to have wine tastings with our grapes and start a whole new chapter. But if we make wine and it doesn't sell then at least it will be wine we like to drink."
Copyright 2018 The Lawrence Journal-World. All rights reserved. This material may not be published, broadcast, rewritten or redistributed. We strive to uphold our values for every story published.