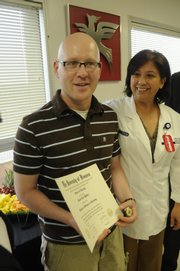 Kansas City, Kan. — The long days and nights Robert Hafner spent in a makeshift hospital in Al Asad, Iraq, tending to patients who had suffered burns was where he needed to be.
Heavy gusts of wind would send fine particle dust into what the nurses had hoped would remain a clean room. The nurses lacked the plethora of bandages most burn units possess.
Iraqi soldiers, police and even women and children who happened to be caught in the crossfire of the fighting found themselves in Hafner's care.
Shoehorned between treating patients, Hafner worked online completing a bachelor's degree in nursing through the Kansas University School of Nursing.
Hafner returned to the United States three weeks ago.
At a celebration of his return Tuesday at Kansas University Hospital, he was surprised with a ceremony during which Dean Karen Miller gave him his diploma and nursing pin.
His wife, Janelle, and 7-month-old daughter, Anya, watched as Hafner greeted a line of supporters and well-wishers.
Hafner was deployed in 2007 as a registered nurse with the Army Reserve. While in Iraq, he was one of two burn specialists in his unit. While most U.S. servicemen and women would be automatically airlifted if injured, it was up to the nurses at Al Asad to treat Iraqi forces and civilian casualties.
Between bursts of patients, a fellow soldier served as Hafner's proctor as he completed the last eight hours for his degree. And though Hafner isn't the first RN to complete his bachelor's degree overseas, Rita Clifford, associate dean of student affairs, said Hafner was the first to finish his bachelor's degree while on active duty.
Although Hafner said he didn't learn anything particularly new when it came to treating burns, he said the leadership role he took on while overseas, coupled with the ability to translate techniques he was studying in his textbook into usable information in Iraq, was a boon.
Hafner will resume work Monday at the Burnett Burn Center at KU Hospital, where he was employed before he was called up. This fall he plans to begin work on a master's degree.
Janelle Hafner said she was proud of the work her husband had completed while serving his country.
"It's great," she said. "He worked hard. His lab partner here had a completely different schedule, so they had to figure out who would get what part of the project done when."
And although there's a chance Hafner may be called back for another tour, he said he was simply happy to be home.
"I mostly like to spend time with my daughter," he said. "I'm really liking that."
Copyright 2018 The Lawrence Journal-World. All rights reserved. This material may not be published, broadcast, rewritten or redistributed. We strive to uphold our values for every story published.