On the street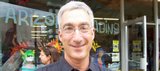 I would say no. I don't see any Jayhawks or even any with KU on them. I live in Wichita and see plenty of shirts that are worse than those.
Topeka — A federal jury Wednesday started deliberations in Kansas University's lawsuit against Lawrence T-shirt seller Larry Sinks, whom school officials accuse of producing sometimes offensive T-shirts that look too much like official KU merchandise.
KU and its trademark enforcement arm Kansas Athletics Inc. allege Sinks' T-shirts infringe on KU's registered trademarks and harm the school's reputation.
KU has asked the eight-member jury to order Sinks to pay KU $509,000 - $476,000 in profits from the T-shirts and $33,000 in royalties - and to assess an unspecified amount in punitive damages against Sinks and Clark Orth, who operates a screen printing business that produces Sinks' shirts for sale at Joe-College.com, 734 Mass., and the company's Web site.
"KU's marks are strong and famous, and the defendants intentionally used those to make a buck," said Charlie Henn, an attorney representing KU.
But Sinks and his attorney, Jim Tilly, portrayed a different story.
Sinks said he went to great lengths to inform customers that his T-shirts were not official KU merchandise.
"We've done as much as I can think possible," Sinks said before U.S. District Court Judge Julie Robinson.
He said he has more than 200 signs in his shop informing customers that the shirts are not licensed by KU and that none of the money to purchase the shirts goes to KU.
Sinks said he was trying to establish a niche market that included T-shirts that KU would never approve, such a "Muck Fizzou" and "Our Coach Can Eat Your Coach."
Sinks' attorney said KU was trying to monopolize the marketplace so that everyone attending a KU event would be wearing official KU merchandise.
"Freedom in the marketplace is one of the great things that made this country great," Tilly said in urging the jury to reject KU's claims.
But Henn also argued that many of Sinks' T-shirts have tarnished the school's image because some believe the offending messages are sponsored or affiliated with KU. He cited the "Muck Fizzou" shirt as among those with "vile comments."
But Tilly said "Muck Fizzou" has been in the marketplace since 1982 and he didn't understand why it has become an issue for KU when Sinks was selling it.
The jury was given more than 60 specific instructions that took Judge Robinson more than an hour to read. In those instructions, it was noted that KU had registered trademarks on such words as Kansas, KU, Jayhawks, The Phogg, Allen Fieldhouse, Rock Chalk Jayhawk and others.
Afterward, KU associate athletics director Jim Marchiony said KU supported free speech but that Sinks' T-shirts "had crossed the line."
But Tilly said universities nationwide are filing similar court cases, trying to gain monopolies because the sale of merchandise has become extremely lucrative.
"This is a watershed case," he said.
Copyright 2017 The Lawrence Journal-World. All rights reserved. This material may not be published, broadcast, rewritten or redistributed. We strive to uphold our values for every story published.