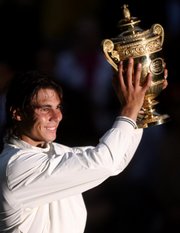 Wimbledon, England — Rafael Nadal, grass stains on his white shirt and a Spanish flag tucked under his arm, scampered through the Centre Court stands to celebrate his first Wimbledon title with hugs and handshakes.
Roger Federer sat in his changeover chair, protected from the night's chill by his custom-made cream cardigan with the gold "RF" on the chest. Alone with his thoughts, alone with the knowledge that he had come so close to becoming the first man since the 1880s to win a sixth consecutive championship at the All England Club.
Two points from victory, the No. 1-ranked Federer couldn't pull it out, instead succumbing to No. 2 Nadal, 6-4, 6-4, 6-7 (5), 6-7 (8), 9-7, Sunday night in a 4-hour, 48-minute test of wills that was the longest men's final in Wimbledon history - and quite possibly the greatest.
Even Nadal felt sympathy for Federer.
"I am very happy for me," Nadal said, "but sorry for him, because he deserved this title, too."
Through rain, wind and descending darkness, the two greatest players of their generation swapped spectacular shots, until, against a slate sky, Nadal earned the right to fling his racket aside and collapse on his back, champion of the All England Club at last.
"Is impossible to explain what I felt in that moment, no?" Nadal said after accepting the trophy that had belonged to Federer since 2003.
The first man since Bjorn Borg in 1980 to win Wimbledon and the French Open in the same year, Nadal stopped Federer's streaks of 40 victories in a row at the All England Club, and a record 65 in a row on grass, thereby stamping his supremacy in their rivalry, no matter what the rankings say.
"Probably my hardest loss, by far," Federer said. "I mean, it's not much harder than this right now."
No man since 1927 had come back to win a Wimbledon final after losing the first two sets, and none had overcome a match point to seize victory since 1948. If anyone could, it figured to be Federer.
He hadn't lost a match on grass since 2002, and he hadn't lost a set during this tournament before Sunday. He also hadn't faced anyone nearly as talented and indefatigable as Nadal.
"Look, Rafa's a deserving champion," Federer said. "He just played fantastically."
Indeed he did, earning Spain its first Wimbledon men's title since Manolo Santana won in 1966.
Copyright 2018 The Lawrence Journal-World. All rights reserved. This material may not be published, broadcast, rewritten or redistributed. We strive to uphold our values for every story published.