Photo Gallery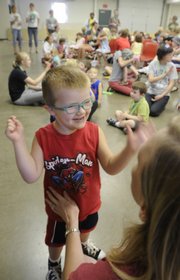 Communication breakthroughs
On the street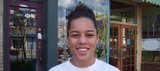 I think team sports are a great way. I think they help you learn good communication skills and how to work with other people.
A small group of children passed around a stuffed toy penguin and chimed in as "Frosty the Snowman" played on a music box. When the music stopped, the person left holding the penguin shared what he or she liked to do when it's cold outside.
Sledding and building snowmen were popular answers - and wishful thinking for this time of year.
The children were participating in the eighth annual Sertoma-Schiefelbusch Communication Camp at the Douglas County 4-H Fairgrounds. The two-week camp, which ends Friday, is for children ages 4-12. There are about 90 campers and two-thirds of them have a communication challenge.
"There are some youngsters who can't express themselves well. There are others who have communication challenges secondary to autism or Down syndrome or cerebral palsy. There are some youngsters who don't produce all of the sounds correctly. There are others who don't understand verbal language as well as their peers. So, it's a wide range of communication challenges," Jane Wegner, camp director, said.
As part of this year's theme, Explore Life, the children are divided into age groups and have names such as elephants, bears, bats, sharks and penguins. Each day has a different topic, and on Monday, as temperatures soared into the 90s, it was ice and snow.
"I think it is so funny," said Jessica Bartley, a Kansas University graduate student in speech-language pathology. "It was a perfect day for it, actually. They really enjoyed the popsicles."
In addition to snacking, the children listened to a presentation by ski instructor Herb Tuttle and passed around his snow gear. They also rotated through various activities such as making snowflakes, watching to a video about polar bears and sculpting "ice" with Play-Doh.
Four-year-old Luke Davis, Oskaloosa, showed off his creativity.
"Look at me," he said as a pink piece of Play-Doh covered his nose. Others in his group giggled, and a couple imitated him.
Bartley said she already had seen progress in some of the children.
"I had one kiddo who came in and wouldn't talk to anybody and today he will just go and initiate conversation with his friends," she said. "It's just great to see these kids interact with each other. They have so much fun and they don't always get to have that experience."
Copyright 2018 The Lawrence Journal-World. All rights reserved. This material may not be published, broadcast, rewritten or redistributed. We strive to uphold our values for every story published.