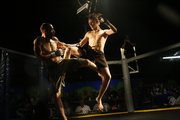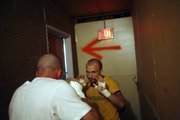 On the street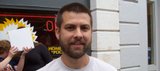 Once at a friend's house. He loves it, but it's not for me.
-->
Lance Yoder's 38-year old body was a water-starved mass of cramps and knots. That much you could see as the light of an intermittent street lamp broke the darkness of a Friday night.
As Yoder lay in the unmanicured grass the near the back exit of Coyote's nightclub, it was obvious his pride had to be hurting, too. That happens when another man gets his hands around your neck and crushes the air right out of you.
"At least he didn't hit me in the broken rib," Yoder, a construction worker by day, said with a laugh that rattled his sore torso.
This is the backstage of cage fighting.
Watching a grown man lay motionless - except for a heaving chest - is a part of the show that a $25 ticket or a prime seat within arm's length of the action doesn't entitle you to see.
But don't worry, Lawrence. The front stage of cage fighting is becoming more prominent than ever in the city.
The sport or the contest - take your pick - of cage fighting has exploded nationally. Now, the rumbles are being felt locally. Lawrence-based promoter Darryl Clark hopes to put together a series of local fights this year. Clark, a local martial arts instructor, is looking for other venues to host future fights.
The June 27 fight at Coyote's was the second in the last year. A crowd of about 500 showed up at the country-and-western nightclub near 23rd Street and Haskell Avenue. Some waxed near poetic about how this was the sport of a new generation.
"We are a generation that has kind of lost ourselves, man," said Othellis Roper, a correctional worker from Independence, Mo. "We don't have any great struggle. We don't really have anything to believe in. We were taught that we could be rock stars and movie stars and we're finding out that is not true.
"This right here though, you can make something of yourself. In the arena, the gladiators are taller than giants right now."
Others were less philosophical.
"It is just raw," Mike Glor said. "Where else can you see two guys get in a ring and just bludgeon the (expletive) out of each other?"
¢¢¢
On this night, there were 10 fights. Twenty would-be bludgeoners, who willfully entered a 22-foot round cage with the goal of mustering whatever skills they could to either pound, kick, grapple or intimidate their opponent into submission.
Some had more skills than others.
But they all had style, both literally and figuratively. Technically all of the fighters had adopted one or more fighting styles. They ranged from any of the martial arts such as judo to a popular form of kickboxing called Muay Thai.
But their bag of tricks also can include traditional boxing or wrestling skills. The multiple styles is why the corporate types - and there's plenty these days as the professional events have landed on network television and become pay-per-view cash cows - call the sport Mixed Martial Arts.
But for some in the crowd, the fighting styles are secondary. They're here for the style.
They watch men in oversized boxers that serve as a southern boundary for abs that are ripped and chests that are lathered. Yes, the crowd included plenty of ladies.
Then there's the music. Predominantly it is pounding drums and amped guitar licks that create a rattle before the rumble, although a Waylon Jennings tribute to outlaws is the tune that brought the house down.
¢¢¢
Yoder enters the ring to an expletive-laden, heavy-metal salvo to America. He makes a barefoot lap around the spectator area, a hardwood planked floor that long ago was marred by roller skates but more recently by cowboy boots.
The lap ends at the cage door, where a doctor - Rance McClain, a Kansas City specialist in sports medicine - sits to watch each fight. Fighters undergo a quick visual check of vital signs before they enter the ring.
Earlier in the day they were given a more thorough exam when they weighed in for the fight. A crew of paramedics with Lawrence-Douglas County Fire & Medical also was on hand with an ambulance for the event.
Fighters participating in the professional class - where prize money sometimes can be a few thousand dollars - are required by the state's Kansas Boxing Commissioner to have blood tests checking for diseases that could be spread by open wounds. Amateur fighters, however, aren't required to have the blood tests.
McClain said that regulation probably needs to be strengthened, but for the most part the sport is well-regulated. And, although it definitely is rough, he said the sport wasn't more dangerous than many other contact sports.
"I'm no busier here than I am at football games I work," McClain said. "A lot of the same types of injuries - concussions, bumps, bruises, cuts."
¢¢¢
Once the cage door closes, what takes place could be described as a locker room fight on steroids. It is rough and semi-ruleless. But there are also bodies - a referee and a state inspector from the Kansas State Athletic Commission - standing by to intercede if the fighters get out of hand.
On this night, most fights lasted less than four minutes - although they were scheduled to go three rounds of three to five minutes per round.
There were a few punchers - in the lingo of MMA, guys who sprawl and brawl. Bloody punches weren't frequent, but they weren't entirely absent either. Word around the ring is that one solid punch produced a broken jaw. Based on the sideways teeth of the still smiling fighter, it undoubtedly produced a nice fee for a dentist.
There were a few more Bruce Lee- or Chuck Norris-inspired fighters who attacked with leaping kicks from the lightly padded ring floor. But the most successful of fighters seemed to be grapplers - the type of geometry warriors who rely on the proper angles and leverage points to produce enough pain that their opponents no longer want to continue.
And, of course, there were winners and losers. Yoder lost his fight - a back and forth affair - in less than five minutes after he was unable to escape a neck hold that cut off his air supply.
It was the second loss in a career that stretches back to 1995. Afterward, Yoder didn't let on that it was any more crushing than any other fight.
"We both just did what we do," he said.
But this was one of the few fights that his 11-year-old daughter attended.
¢¢¢
There was some joy, though, in Larryville fight circles. Mark Sears - Yoder's roommate - won a fight earlier in the evening. A professional box handler at the Kmart Distribution Center, Sears stands 5 feet, 5 inches tall and weighs 135 pounds. He says he doesn't fight so much because of some small-guy complex. Instead, a male affliction even more common drives him - high school regret.
"I didn't wrestle my junior or senior year," said Sears, who started wrestling in the fourth grade. "I fell in love with my high school sweetheart and got distracted. That's always been one of my regrets that I never finished up my wrestling career when I was a kid.
"But now I have this. I don't have to feel like I left any dreams behind."
Sears had glory on this night. He won his fight - via a chokehold - in less than two minutes. But he thought the victory was sloppy.
Near the back door, where Yoder still lies, any victory would be welcome. Before the fight, Yoder had wondered aloud how much longer his 38-year old body would allow him to continue.
He knew the end was much nearer than the beginning.
But now, lying with closed eyes and a near-buried head, Yoder is in no mood to strike up that conversation again. No mood to talk about why he fights. At that moment he doesn't know why.
He just knows he will again.
"I would love a rematch with this guy because I can beat him," Yoder said before taking a pause that bordered on reflective. "Yeah, I think that is probably coming next."
Copyright 2017 The Lawrence Journal-World. All rights reserved. This material may not be published, broadcast, rewritten or redistributed. We strive to uphold our values for every story published.