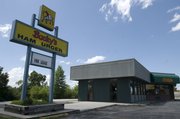 Biemer's BBQ is about to move into the former Bucky's location near Centennial Park.
Biemer's, operating for nearly a year out of a portion of a Phillips 66 station at 3300 W. Sixth St., is making plans to grow into the drive-through building that had been the longtime home of Bucky's - a place that boasts twice as much space, resides close to even more traffic and offers a chance to expand a menu that has been starving for more.
"This is going to be it," said owner Jim Biemick, of his growth plans. "I don't ever want to get big - big big. I just want to get popular."
That's where the former Bucky's site comes in.
He plans to make the move in time to be open by Aug. 15, after closing the place that's been his business home since September.
While the location at the Miller Mart has helped him build his barbecue business - launched five years ago with a trailer hauled to dog shows, motorcycle shows and the Douglas County Fair - the service station setup couldn't expand to keep up with demand, he said.
So the new location, with 3,000 square feet of space and seating for 88, will let him add fries, onion rings and fried pickles to the menu, he said. Chicken and sausage also will be expected to join the familiar pulled pork, beef, turkey, pork ribs and loaded baked potatoes.
Biemick also will serve beer, add Sunday hours and stay open later Mondays through Saturdays - "or until we run out of meat," he said - in an effort to make the best use out of a familiar building that is close to the intersection of Ninth and Iowa streets, and all the visibility and traffic that comes with it.
"We're going to try to capitalize on some of that stuff," Biemick said.
Biemick signed a three-year lease with an ownership group led by Doug Compton, president of First Management Inc., Lawrence. The partnership acquired the property at 2120 W. Ninth St. in February, and also owns the former Sinclair service station next door, at the northwest corner of Ninth and Iowa streets.
Biemick said that he would anticipate being part of any future redevelopment at the site, such as by occupying the corner of a new building, should one be built.
Bucky's closed in December, after more than 30 years in operation as a fast-food joint. Biemick plans to keep the building's basics largely intact, from retaining most, if not all, of the booths inside to using the familiar sign out front.
"But we'll be putting a pig on it," he said.
Copyright 2018 The Lawrence Journal-World. All rights reserved. This material may not be published, broadcast, rewritten or redistributed. We strive to uphold our values for every story published.