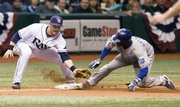 St. Petersburg, Fla. — When Andy Sonnanstine takes the mound, the Tampa Bay Rays expect to win.
Sonnanstine pitched seven strong innings, Ben Zobrist homered again, and the Rays beat the Kansas City Royals, 3-0, Saturday night for their sixth straight victory.
"You ask our players, I know we always feel we have a really good chance to win on the night that he pitches," Rays manager Joe Maddon said. "So you get this extra feeling about you. There's certain pitchers that players play behind, and they feel this guy is going to win somehow, and that matters. He's one of those guys."
Sonnanstine is just the third Tampa Bay pitcher - joining Rolando Arrojo (1998) and Scott Kazmir (2006) - to have 10 wins before the All-Star break.
Zobrist homered for the third game in a row as the Rays increased their AL East lead to a season-high four games over second-place Boston. Tampa Bay has won 10 of 11.
Sonnanstine (10-3) won his fourth consecutive decision. He allowed five hits, walked one and struck out two.
J.P Howell pitched the eighth inning, and Grant Balfour worked the ninth for his third save.
"It feels great," Sonnanstine said. "I've got to give a lot of the credit to the bullpen."
Akinori Iwamura put the Rays ahead, 2-0, with a two-out, two-run double in the second off Zack Greinke (7-5). Royals center fielder Joey Gathright made a dive and just missed catching the ball.
"They capitalized on some big at-bats," Greinke said.
Royals right fielder Jose Guillen, involved in a heated exchange with Kansas City pitching coach Bob McClure in the clubhouse before the game, went 0-for-4.
Copyright 2018 The Associated Press. All rights reserved. This material may not be published, broadcast, rewritten or redistributed. We strive to uphold our values for every story published.