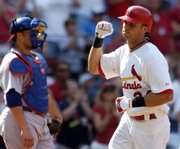 Cardinals 5, Cubs 4
St. Louis - Rick Ankiel slapped a two-run, two-out single to right field in the bottom of the ninth inning to cap a three-run rally and lead St. Louis over Chicago on Saturday.
The victory brought the Cardinals (50-39) to within 21â2 games of the first-place Cubs (52-36) in the National League Central.
St. Louis rallied against Chicago closer Kerry Wood (4-2), who blew his fifth save of the season in 27 chances. Ankiel also homered in the sixth, when St. Louis rallied to tie it at 2. St. Louis reliever Kyle McClellan (1-3) picked up his first major-league victory in relief.
Brewers 2, Pirates 1
Milwaukee - Prince Fielder singled in Rickie Weeks with one out in the bottom of the ninth, leading the Brewers to their second straight victory.
Astros 6, Braves 1
Atlanta - Mark Loretta had three doubles and drove in four runs, and, with Ty Wigginton batting leadoff for the first time this season, the Astros scored four times in the first two innings. Wigginton walked and scored in a two-run second inning against Braves left-hander Jo-Jo Reyes (3-7).
Reds 3, Nationals 2
Cincinnati - Brandon Phillips singled in Jerry Hairston Jr. from second base in the ninth inning to lift the Reds. After Jesus Flores' ninth-inning sacrifice fly tied it at 2 and handed Francisco Cordero (4-1) his fourth blown save of the season, Hairston led off the ninth with a single off of Joel Hanrahan (5-3). He stole second, but Jay Bruce struck out and Ken Griffey Jr. was intentionally walked.
Mets 9, Phillies 4
Philadelphia - Pinch-hitter Brian Schneider lined a tiebreaking double in the eighth inning, and the Mets rallied against the majors' best bullpen, ending the Phillies' four-game winning streak.
Padres 4, Diamondbacks 2
Phoenix - Jake Peavy (6-5) threw seven scoreless innings, and Scott Hairston homered twice in the Padres' victory over slumping Arizona. Adrian Gonzalez also homered for the Padres.
Rockies 12, Marlins 6
Denver - Matt Holliday homered and drove in four runs, and Joe Koshansky hit his first major-league homer.
Giants 5, Dodgers 2
San Francisco - Randy Winn and Fred Lewis hit two-out RBI singles during San Francisco's four-run rally in the seventh inning.
Copyright 2018 The Associated Press. All rights reserved. This material may not be published, broadcast, rewritten or redistributed. We strive to uphold our values for every story published.