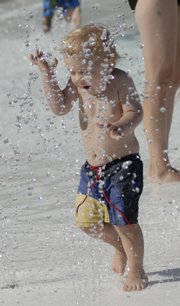 They blame the mild month of June, not the higher swimming fees.
Recreational swimming attendance at Lawrence's Outdoor Aquatic Center, 727 Ky., has decreased by about 3,300 swimmers from this point in 2007 - from 65,650 people to 62,357 through June 30.
"It just hasn't got quite as warm as normal during this time of year," said Lori Madaus, the city's aquatics supervisor.
As temperatures hit 90 degrees last week, Lawrence Parks and Recreation staffers said they were hoping more families would want to take a dip. But June had lower-than-average temperatures as well as 7.6 inches of rain, compared with the normal 5.63 inches, said Jennifer Schack, 6News chief meteorologist.
So far, the pool has closed early only twice and opened late once this year because of weather, Madaus said.
Outdoor swimmers this summer have also had to deal with higher rates. Five- to 12-year-olds pay $3, up from $1.75 last year, and 13- to 17-year-old swimmers also pay $3, up from $2.50. Adults pay $4 instead of $3.75.
"It looks like the same people are coming back. We're seeing a lot of the same faces. We haven't really had a whole lot of issues with the price increase. Most of it is the weather," Madaus said.
Zhade Wray, a Eudora sixth-grader, said the higher fees haven't deterred him. He enjoys the diving board, and he spends most summer afternoons in Lawrence with his grandparents while his dad works. Sometimes, though, if there was a threat of a storm, he'd stay home or go to the Eudora pool.
"It's pretty much the same with me," he said. "I still come here a lot."
Ernie Shaw, the interim parks and recreation director, said the slightly lower attendance through June is not a major concern. With the higher prices, the department is on target to hit budget for revenue from entry fees; without them, the city would be down 4 percent, he said.
Staffers have had few people question the higher fees, he said, and the department is fighting increased utility and maintenance costs. For all city aquatics facilities, entry fees make up about 50 percent of revenue.
"We'd love to see a good July," Shaw said. "That's for sure."
Copyright 2018 The Lawrence Journal-World. All rights reserved. This material may not be published, broadcast, rewritten or redistributed. We strive to uphold our values for every story published.