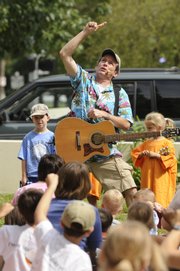 When Mr. Stinky Feet tells you to do something, you do it.
Especially if you're a kid or a kid at heart.
"My first priority is to tell them to be kids," said Mr. Stinky Feet, a.k.a. nationally known Prairie Village children's singer Jim Cosgrove. "If they learn something along the way, that's great."
Cosgrove strapped on his guitar Thursday and played two concerts at the Lawrence Public Library for more than 500 children and parents, encouraging them to dance, sing and even grab a few instruments.
He came to Lawrence as part of a summerlong tour, hitting 20 libraries across the state, sponsored by Learning Quest, a Kansas City-based organization dedicated to helping families start tax-free college savings accounts.
Cosgrove sang songs about everything from dealing with gum stuck to his shoe to a ditty about the importance of a college education, written specifically for the tour, which has taken him to places including Wichita, Topeka and Louisburg.
"It seemed like a natural fit for us. This is a worthy thing," he said. But Cosgrove, who has been performing children's songs for 10 years, said his goal was to make the concert fun, and not necessarily a learning experience.
"Kids are smart. They know when they're being talked down to, and they know when they're being sold on something," he said.
Joyce Steiner, youth services coordinator for the library, said the concert went a long way in making the library a destination for families.
"It makes the library a fun place," she said.
Steiner said studies have shown that music helps children develop learning skills.
"More and more, we're realizing how music is a part of that," she said, noting that the library had begun to incorporate music into its storytime sessions.
If anything, the shows were a chance for children to get loose and have fun. They jumped up and down for a song called "Bop, Bop Dinosaur," and Cosgrove invited kids and parents on stage to accompany him on a few songs.
Lawrence resident Ashley Zong, who brought her 19-month-old son Mather, said the concert was a good way to spend a summer morning.
"My son is just at the age where he's starting to get into music," she said. "I liked that (Cosgrove) talked about animals, the kinds of things (her son) is interested in."
Cosgrove said he hoped to visit tornado-ravaged Chapman in the coming months to help that town's children cope with the devastation.
Copyright 2017 The Lawrence Journal-World. All rights reserved. This material may not be published, broadcast, rewritten or redistributed. We strive to uphold our values for every story published.